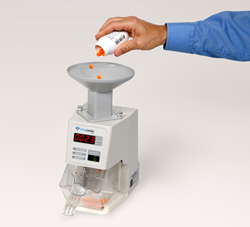 The Kirby Lester brand name is synonymous with accuracy.
Lake Forest, IL (PRWEB) October 29, 2014
Kirby Lester, LLC, a leading pharmacy automation provider, announced that Service Industries LLC will be a U.S. distributor for Kirby Lester's industrial line of tablet counting and bottling devices. Service Industries will sell the best-selling KL1 check counter and the KL25, KL50ic/KL50icf, and KL200 small-scale pill counting and bottling devices.
This new distributorship allows Service Industries to offer a wider breadth of solutions for its pharmaceutical industry customers. Service Industries will promote Kirby Lester devices for QC and validation counts, low-to medium-volume bottling needs, and general tablet counting.
The partnership will kick off during the upcoming PharmaExpo trade show (part of PackExpo) in Chicago's McCormick Center. Both Kirby Lester (exhibit W-1043) and Service Industries (exhibit W-645) will display the Kirby Lester pharmaceutical line of products.
Kirby Lester pioneered tablet and capsule counting technology for community pharmacies, mail order and central fill pharmacies since 1971. The company's pill counters have been used by the pharmaceutical manufacturing industry for decades, but the new Service Industries distribution agreement sharpens its focus. "Kirby Lester's knowledge base is pharmacy. By partnering with a leader like Service Industries, our products will gain an immediate boost in visibility among pharmaceutical manufacturers and contract packagers. I am impressed with Service Industries' credibility in this vast industry, from major pharmaceutical brands to regional contract packagers to nutraceutical specialists," says Garry Zage, R.Ph., Kirby Lester's President.
By adding Kirby Lester counting machines and bottling devices to its lineup, Service Industries is now a one-stop solution for bottling filling and blister packaging needs. Wesley Mancoff, President of Service Industries, hailed the distributorship agreement. "The Kirby Lester brand name is synonymous with accuracy among community pharmacies. We are proud to bring our pharmaceutical customers such a high-quality product. In the past, our customers frequently asked us for assistance with small-scale bottling and QC to support their automated bottle filling lines. We now have the ideal solutions."