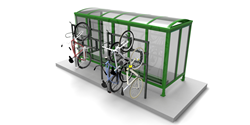 Clifton, NJ (PRWEB) October 28, 2014
Velodome Shelters was pleased to meet so many APTA members and showcase their bicycle parking shelters, bike racks and public bike pumps before the audience of presidents, administrators, directors, managers and more attending the APTA EXPO in Houston, Texas. This is APTA's largest meeting which occurs once every three years and included many educational sessions and events.
Transit industry planners are addressing the enormous growth in alternative transportation interest in their communities. This growth includes a keen increase in multimodal bike/bus and bike/train commuting. Master planning issues include bikeways, parking and protection from theft. Bicycle theft has become a major concern and is concurrent with the growing popularity of bicycling.
Velodomes' product offering of secure, covered bike parking shelters provides a significant solution to the problem of theft and the need for protection from the elements. The high security shelters are led by the Velodome Guardian, Europa Compound and Peapod bike shelters. Custom-designed options are available for specific needs and settings. Transit planners, architects and administrators can work closely with the Velodome product design team to find the perfect solution for their specific bicycle parking needs. Bike transportation firms such as Velodome continue providing innovative solutions to meet evolving bicycle transportation and parking needs.
You can see the Velodome Secure shelters here
About Velodome Shelters
Velodome Shelters specializes in innovative bicycle parking shelters and secure bike racks that protect bikes from the elements and deter theft. Their creative team also designs custom bike parking solutions for virtually any location. In addition, Velodome offers a variety of bike repair accessories and products that are geared specifically for cyclists.
Bicycle Parking Solutions for a Greener World™