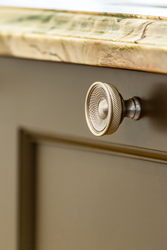 Brisbane, CA (PRWEB) October 28, 2014
When design and desire meet, the results can be truly spectacular. Such is the case with Alyssa Taubman's refined yet relaxed and most decidedly top-of-the-line new family eating area. A dream in the making for over 20 years, Taubman describes her recently-completed kitchen as "well worth the wait."
"When I planned this project, I took my time, researched literally every faucet and envisioned the kitchen down to the last detail…even the pot hangers are my own custom design from 22 years ago," said Taubman.
To begin, Taubman looked for a stone surface that would enhance the coloration of a favored sectional piece to be used in the family room seating area. She traveled to every stone supplier within a 50-mile radius looking for that perfect piece of quartzite. Then one trip to Integrated Resources Group, and there it was: IRG's Fascination Quartzite.
"I walked in the door and was just thrilled…the perfect shade, the perfect large size, the perfect look…that piece quickly became the centerpiece of the kitchen and the focal point of the project," said Taubman. "The light green translucence is almost like looking into the ocean; it has become the natural place where guests gather and love to just stare deeply into the surface."
Although the slabs Taubman first spied in the Integrated Resources Group warehouse in Brisbane were already on hold for another client, IRG quickly ordered more from their second showroom in Dublin. Chosen for its food-grade durability as well as its beauty, Taubman then decided to use this quartzite for the backsplash and desktop as well.
Working with contractor Tomrose Construction and interior designer Rochelle Silberman, the project began taking shape – beautifully. The LED lights above the island and counters were positioned to enhance the stone. Chairs were selected in the exact stone vein shade of tan. And even the hood design, cabinet and wall color decisions were made in consideration of the stone.
In the end, Taubman gave much of the credit to the extensive inventory and stellar quality of slabs at the Bay Area's own IRG. Integrated Resources Group sources exotics from India, Italy, Greece, Brazil and stocks more than 10,000 slabs consistently – the largest inventory in the Bay Area – in two exceptional warehouse/showroom locations.
"I've used IRG in the past and I will definitely go back again," said Taubman. "And most likely first next time."
About the company:
Integrated Resources Group offers the largest selection of natural stone in the San Francisco Bay Area. The family-owned business started as a trading company in 1986 dealing in agricultural products, canned food, apparel and natural stone. With a growing reputation for its high-quality natural stone and excellent service, the company relocated the business to a vast warehouse and showroom in Brisbane, where they now carry more than 250 types of stone. The company opened a second showroom and warehouse in Dublin to service East Bay customers. Its products include stone, exotics, glass tile, engineered stone and more. For information on the products and services of Integrated Resources Group, the Bay Area's marble and granite company, call 415-657-0280, visit http://marblecompany.com/ or come into either of their two locations.