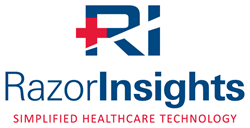 Kennesaw, GA (PRWEB) October 29, 2014
RazorInsights, a leading provider of health IT solutions for rural, critical access and community hospitals, announced today a partnership with Data Innovations, the world's largest laboratory middleware company and its Instrument Manager software solution. The partnership offers RazorInsights' laboratory information system (LIS) customers with a powerful middleware solution that incorporates an extensive driver library for connecting laboratory instruments with RazorInsights' ONE-Electronic Health Record®.
Beyond connectivity to RazorInsights' established EHR system, Instrument Manager also complements the LIS productivity through IMpowered workflow automation, optimization and management solutions. This functionality includes auto verification, quick storage and retrieval, laboratory intelligence, data mining and more, giving hospitals the ability to run their laboratories more effectively and efficiently.
"We're excited to be partnering with RazorInsights. Instrument Manager allows labs to be more efficient and is well-suited for rural, critical access and community hospitals," said Mike Epplen, CEO of Data Innovations. "Our product has a 25-year history of helping labs standardize their workflow across multiple disciplines, manage their operations through simple and flexible rules and enhance both productivity and quality with proven solutions". Today, faster turnaround times, lower costs and higher demand for revenues are expected by hospitals and patients. Instrument Manager will help these facilities take control and simplify these challenges by incorporating the software into their current EHR system.
RazorInsights' simplified healthcare technology platform includes both financial management and clinical information, allowing for a truly integrated experience. "At RazorInsights, we take pride in delivering simplified, superior healthcare technology that helps our clients provide the best care possible," said Reed Liggin, president of RazorInsights. "Data Innovations' Instrument Manager is a great addition to ONE-Electronic Health Record and this partnership gives us the ability to provide our LIS customers with additional workflow automation that will make their jobs easier and, in return, benefit their patients and communities."
To learn more about RazorInsights' simplified healthcare technology platform or to request a demo of ONE-Electronic Health Record for your hospital, please visit razorinsights.com.
About RazorInsights:
Based in Kennesaw, Ga., RazorInsights is a dynamic healthcare information technology company. In keeping with the principle of Occam's Razor, it has created a simplified HIS solution for Rural, Critical Access and Community hospitals. Introducing ONE — a single-database, cloud solution offering a simple user experience with cutting-edge clinical tools and industry-standardized data. Hospitals can expect to improve their performance and bottom line with ONE from RazorInsights. For more information, visit razorinsights.com or call 770-308-4111.
About Data Innovations:
Founded in 1989, Data Innovations (DI) is the world's largest, most successful clinical and blood laboratory middleware company. With a focus solely on laboratory data management, DI offers the most complete middleware system in the market to manage laboratory operations, including pre-analytical, analytical, and post-analytical sample processing and non-clinical tasks such as equipment maintenance and specimen archiving. For more information, visit datainnovations.com