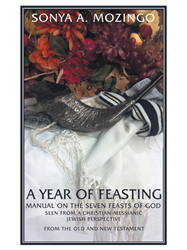 The feasts are like God's rhythm and heartbeat.
RALEIGH, N.C. (PRWEB) October 29, 2014
Sonya Mozingo's family life had been suffering for 23 years. Things were crumbling around her and the straining difficulties that they experienced almost resulted in the dissolution of her family. Be it divine providence or coincidence, Mozingo was introduced to the teachings of Larry Hutch, a non-denominational evangelical pastor who believes in studying Christianity from a Jewish perspective.
Applying the principles of Jewish foundationalism to her faith set off a series of chain-reactions that led to dramatic improvements in the family. In fact, she says they changed her whole life.
"It was like the layers of an onion peel being removed," said Mozingo. "The atmosphere in our house began to change subtly at first, but enough to know that things were becoming very different."
In the hopes of sharing the blessings she has received, Mozingo has written a new book titled "A Year of Feasting." In it, she helps readers to prepare and celebrate the seven feasts of God that occur throughout the year. The book is an easy-to-use manual on how to observe the biblical feasts with friends, family and church-groups.
"The feasts are like God's rhythm and heartbeat. While it's true that he can bless us at any time, these special occasions traditionally serve to focus some of his richest blessings," said Mozingo.
With all of the turmoil occurring in the world, Mozingo is doing her part to bring Jews and Christians together. She is especially proud to have introduced local churches to the feasts and to have hosted the Jewish community in their celebrations. These dinners and celebrations helped to build an important relationship within the community that was not present before her book.
For more information, visit http://www.sonyamozingo.com
"A Year of Feasting"
By Sonya A. Mozingo
ISBN: 978-1-4808-0653-5
Available in softcover
Softcover: $13.99
Available on Amazon, Barnes & Noble and Archway Publishing
About the author
Sonya Mozingo operates Sound of Joy Ministries. Her family saved by the principles she shares in "A Year of Feasting," they continue to celebrate the feasts together at Sonya's home near Raleigh, North Carolina.
# # #
**FOR IMMEDIATE RELEASE**
For review copies or interview requests, contact:
Matt VanScoik
317.602.7137 | mvanscoik(at)bohlsengroup.com