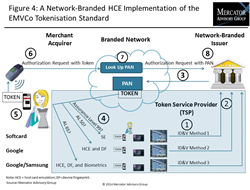 Expanding beyond the tightly controlled Apple Pay environment into the Wild West of the Android environment will take time
Boston, MA (PRWEB) October 28, 2014
A new research report from Mercator Advisory Group, Payment Networks 2.0: The Battle for Tokenization, provides a deep dive into how network tokenization operates, starting with the EMVCo specification and a review of the Apple Pay implementation. It provides clarity regarding the technical challenges associated with implementing host card emulation (HCE) and identifies how tokenization will impact the payments value chain and how Apple Pay will impact Google, PayPal, MCX, and Softcard.
"Expanding beyond the tightly controlled Apple Pay environment into the Wild West of the Android environment will take time," said Tim Sloane, VP, Payments Innovation, and author of report. "Tokenization will change the payments industry in interesting ways. The networks have clearly carved out a new business model for themselves, and the implementation of tokens will enable payment providers to enter adjacent markets, such as identity management and loyalty management, if they wish. Indeed tokens offer so many growth paths that determining which path any individual payment provider will follow will likely consume corporate strategic thinking for the next few years."
Highlights of the report include:

Discussion of consumer behavior driving the growth of mobile payments and aspects of it that provide merchants an advantage if the networks fail to adjust their business models
Analysis of EMVCo's failure to deliver specifications sufficient to resolve debit routing and ATM usage in its tokenization specification
A detailed process flow for implementing tokenization for Apple Pay and a process flow illustrating the challenges of managing a more complex environment such as that of HCE
A review of banks' responses to Apple Pay so far and recommendations for how banks should be responding to Apple Pay and tokenization going forward
A competitive analysis of how Apple Pay impacts major payment network competitors
A history of the long and winding road that finally brought tokens into the network world
How MasterCard and Visa have approached mobile payments over time and how they will monetize tokenization using new business units for rolling out token-based services
A deep dive into the EMVCo Tokenisation Specification identifying key components that will have a major impact on the roll-out of mobile payments going forward, including new payment functions with merchant, time, and spend restrictions and how these new capabilities might be tied to the Internet of Things and beacons
Why tokenization as currently implemented threatens the business models of EFT network providers and issuing processors, including a chart showing which business functions will be adopted by the networks, challenging the existing business models of issuing processors
The implications of tokenization on networks that have yet to announce how they will respond, including American Express, Discover, and PayPal
A discussion of why future standards are required if payments innovation is to leverage consumer contextual information effectively
This report is 40 pages long and contains 8 exhibits.
Companies and organizations mentioned in this report include: Adaptive Path, Amazon, American Airlines, American Express, Apple, AT&T, Bank of America, Capital One, Chase, Citigroup, Deutsche Telekom, Discover, Dunkin' Donuts, EMVCo, Facebook, Fast Identity Online (FIDO) Alliance, Fiserv, Google, MasterCard, Merchant Customer Exchange (MCX), mFoundry, Microsoft, Monitise Group, Navy Federal Credit Union, NYCE, PayPal, PNC, Secure Remote Payment Council, Shazam, Softcard, Starbucks, The Clearing House, T-Mobile, TSYS, US Bank, USAA, Verifone, Verizon, Visa, Wells Fargo, and Wendy's.
Members of Mercator Advisory Group's Emerging Technologies Advisory Service have access to this report as well as the upcoming research for the year ahead, presentations, analyst access, and other membership benefits.
Please visit us online at http://www.mercatoradvisorygroup.com.
For more information and media inquiries, please call Mercator Advisory Group's main line: (781) 419-1700
For free industry news, opinions, research, company information and more visit us at http://www.PaymentsJournal.com.
About Mercator Advisory Group
Mercator Advisory Group is the leading, independent research and advisory services firm exclusively focused on the payments and banking industries. We deliver pragmatic and timely research and advice designed to help our clients uncover the most lucrative opportunities to maximize revenue growth and contain costs. Our clients range from the world's largest payment issuers, acquirers, processors, merchants and associations to leading technology providers and investors. Mercator Advisory Group is also the publisher of the online payments and banking news and information portal PaymentsJournal.com.