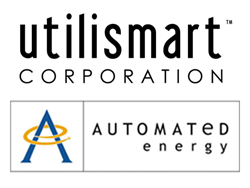 This partnership combines our Utilismart Online Data Solution with a best-in-class key customer oriented company – Automated Energy - that has been providing value to the utility marketplace for over a decade.. John Avdoulos
(PRWEB) October 29, 2014
Utilismart Corporation, a Meter Data Management and Smart Grid Analytics company providing data collection, processing, secure storage and web-presentment services including analytics, today announced a partnership with Automated Energy Inc. to provide their Online Data Solution to the utility industry primarily focused on the public power marketplace.
The partnership unites Utilismart's expertise in managing the utility online data solution including MDM and Analytics with Automated Energy's best-in-class software solution (Load Profiler) and customer service enabling a more complete software solution for both the utility and key commercial and industrial customers.
"This partnership combines our Utilismart Online Data Solution with a best-in-class key customer oriented company – Automated Energy - that has been providing value to the utility marketplace for over a decade. I believe by sharing our expansive software solutions and technology with Automated Energy and their customers, it is a win-win-win proposition by providing a comprehensive solution to help serve our customers' needs and deliver value to end use customers," says John Avdoulos, Utilismart Corporation President.
About Utilismart Corporation
Utilismart is the turnkey, single point of contact, meter data management (MDM) Online Data Solution Company. We provide end-to-end managed AMI operations, CIS integration (meter-to-cash), voltage monitoring, transformer overloading, outage management and theft detection. From Wholesale, Commercial & Industrial meters to AMI and Smart Grid deployments, Utilismart's multiple hosted, managed MDM offerings meet all customer requirements ranging from the simple to the complex, without the use of any special hardware or software licenses.
About Automated Energy Inc.
Automated Energy, Inc. (AEI) empowers energy consumers with the information they need to make smart energy decisions. We believe that when customers have ready access to their energy use information they will reduce energy costs. Utilizing the internet and existing metering technologies, AEI gives energy users access to their energy usage anywhere anytime, by simply logging on to the web using their Internet Browser.
For further information, visit http://www.utilismartcorp.com or e-mail us at info(at)utilismartcorp(dot)com
Press Contact
Gary F Moody
VP Sales & Marketing
Utilismart Corporation
+1.248.996.7305
gmoody(at)utilismartcorp(dot)com