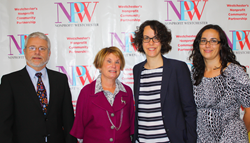 Purchase, N.Y. (PRWEB) October 28, 2014
At a recent conference hosted by Nonprofit Westchester and the Manhattanville School of Business, the School of Business announced the launch of its Nonprofit Management Certificate program, set to begin in 2015. The first of its kind in Westchester and Fairfield counties, this program will empower nonprofit professionals with the principles and critical skills needed to effectively lead in today's expanding and evolving nonprofit world.
The conference, which attracted more than 50 area nonprofit leaders, board members, and volunteers, highlighted keynote speaker Farra Trompeter, vice president of Big Duck Marketing, and included various workshops led by area business professionals. Trompeter, a veteran nonprofit strategist, applauded Manhattanville School of Business for introducing an advanced level of nonprofit education to Westchester and beyond.
"This certificate embodies our mission to create programs that address the very specific skill sets needed in each and every sector crucial to the growth of the region's economy," said Dr. Anthony Davidson, dean of the Manhattanville School of Business. "One of the reasons our program is so unique in terms of concept, what we're trying to accomplish, and the benefits it brings to the table, is that many of you helped create it," added Rhonna Goodman, Nonprofit Management Certificate program director, referring to advisory board members present at the conference.
The program's advisory board is made up of eight powerful community leaders whose diverse backgrounds demonstrate their expertise and commitment to the success and needs of area nonprofits. The advisory board members are: Catherine Marsh, executive director, Westchester Community Foundation; Daniel Alcott, Esq., partner and chair of the not-for-profit department, Dorf & Nelson LLP; Alisa Kesten, executive director, Volunteer New York!; Maria Imperial, executive director, White Plains and Central Westchester YWCA; Terry Kirchner, executive director, Westchester Library System; Blanca Lopez, director of Neighborhood Preservation Company, Human Development Services of Westchester; Greg Maher, executive director, Leviticus 25:23 Alternative Fund, Inc.; and Joanna Straub, executive director, Nonprofit Westchester.
The Nonprofit Management Certificate program entails five month-long modules, focusing on fundraising and development, financial management, external relations, staff management, and marketing. Modules will be delivered in a hybrid format using face-to-face and videoconference sessions. Those who earn their certificate are eligible to receive advanced standing in Mahattanville's MS in Business Leadership. For more information, pricing, and start dates, contact Enrollment Services at 914-323-5150 or business(at)mville(dot)edu.
About the Manhattanville School of Business:
For two decades, the Manhattanville School of Business (formerly The School of Graduate and Professional Studies) has helped prepare today's professionals for tomorrow's business.
Students capitalize on its extensive faculty and alumni network with graduates and faculty employed at top companies including Morgan Stanley, MasterCard, PepsiCo, the NFL, Verizon, and the New York Stock Exchange.
Located in the heart of Westchester County in Purchase, NY – and surrounded by Fortune 100 and 500 companies – the School of Business has expanded to now offer six Master's degrees, including, Business Leadership, Finance, Human Resource Management and Organizational Effectiveness, International Management, Marketing Communication Management and Sport Business Management.
The School of Business also offers Advanced Certificates in Business Leadership, Finance, Human Resource Management, and Marketing Communication Management as well as three accelerated Bachelor's degree programs for adult learners and degree completers.
Manhattanville School of Business prides itself on offering industry-driven content taught by seasoned professionals in convenient weekend or evening schedules; its Master's degree programs can be completed in as little as 18 months of part-time study.