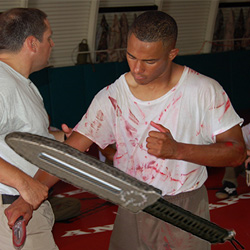 "Responsible for saving thousands of US lives" says USMC Sgt. Major Hines.
Virginia Beach, Va (PRWEB) October 29, 2014
Most police officers hold the dangerous belief that in a close range encounter they would be able to easily draw their gun and fire on the subject. But in training with the No Lie Training knife at a distance of 15 feet or less, officers learn immediately they cannot deploy quickly enough and fire their weapon on target.
Prior to the invention of the No Lie Blades marking training knife, there was no realistic way to define how successful a trainee was in defending a knife attack. No Lie Blades solves that problem with their marking training knife by "leaving a distinctive mark that can't be denied" says Sgt. Hauck. "The No Lie Blades training knife settles any dispute over that fact".
The Police Hall of Fame in Titusville, FL is hosting a tactical knife training course on November 7, 2014 with several of the worlds top tactical knife instructors such as Michael de Bethencourt , Paul Pawelas, Tom Tremell and many others. These top dogs prefer the characteristics of the No Lie marking blade because of the realistic look, weight and feel; however, the biggest benefit the tool has is its ability to give you immediate feedback, in other words, the red marks, slashes and stabs it leaves all over your body. Once a student sees the marks on his or her shirt or pants in the groin area, the lung area, femoral artery area, abdominal area and other high bleed, major vital organ centers, it drives the message home extremely fast. And because most officers are competitive, their egos are compromised; this has an almost automatic effect on their desire to perform well.
It's like watching magic happen, with intensive hands on instruction almost every student in the course increases their skill dramatically. They learn what their weak areas are as the marks keep showing up, and after a few times and desperate to not see those spots show up anymore, they find a way to succeed.
As the Police Hall of Fame is known for showcasing officers that have performed above and beyond the call of duty, they're also seeking out and using the best in tools and training for law enforcement officers. The No Lie Blade training knife meets their criteria needs and the team at No Lie Blades is more than proud to be a part of the Police Hall of Fame preferred tools and training roster.
In the below video link, see what top national instructor Scott Bolan has to say about his experience with tactical knife training and using the No Lie Blades tools. As a way of saying thank you, No Lie Blades is offering an awesome 30% discount on anything purchased using this code (PHOF1) at checkout. Go to http://www.trainingknives.net/secret2 to get all the details and watch the video.
No Lie Blades is the inventor and manufacturer of the marking blade along with tactical fighting and training systems. No Lie Blades has officially trained over 11,414 operators for the US Military and Law Enforcement forces. No Lie Blades training is "directly responsible for saving thousand of U.S. lives" says USMC Sgt. Major Hines. "Their training tools and tactical programs are a wake up call to force protection units."