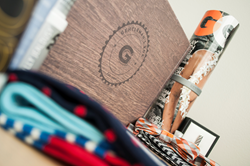 "We want every box to be delivered with an element of surprise. We put a lot of thought into each item we decide to include, and we want our community to know we're really thinking about modern trends and style," Chris George, Gentleman's Box co-founder.
Detroit, Michigan (PRWEB) October 29, 2014
Gentleman's Box, a premier subscription box for men, has announced a limited launch for the very first box, which will start shipping mid-November. This box is available now to the first 1,000 subscribers.
"Gentleman's Box is about giving everyday men the opportunity to look and feel like the perfect gentleman. Each and every box we send out brings such excitement, knowing that the products inside will help every man achieve this profound status," said John Haji, Gentleman's Box co-founder.
Each month's box is themed around a noteworthy gentleman. The four to five items inside are strategically chosen to capture the iconic image of that month's featured individual. Also including the latest issue of GQ magazine, every box is packed to impress.
Gentleman's Box subscriptions are available as personal packages or as gift options. From grooming products to style accessories and everything in between, subscribers receive new savvy essentials every month. With the modern man's standards always evolving, Gentleman's Box keeps gents at the top of their game.
With a new website as classy as the box itself, Gentleman's Box is establishing itself as the elite men's subscription box. But, it's about more than just the products - it's about joining a community of fellow gentlemen and connecting with others who share passion for extravagance.
Connect with Gentleman's Box on the brand's social networks - blog, Facebook, Twitter, Instagram – to receive the best Gentleman's Box experience. Tips are frequently shared on these networks to enhance the gentlemanly lifestyle, and provide insight on the products and featured man of the month.
Gentleman's Box welcomes the opinions of all fellow gentlemen. In fact, tips shared by subscribers will have the opportunity to be featured in upcoming boxes!
About Gentleman's Box:
Gentleman's Box is a monthly subscription box providing all the required essentials for today's modern gentleman. Each month, boxes are themed to capture the iconic image of an admirable gentleman. With four to five hand-selected products, along with the latest issue of GQ magazine, the Gentleman's Box is designed to impress each and every month.