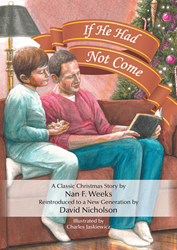 I hope that children who read this book will realize that the very best Christmas gift is not under the tree, but in their hearts
St. Paul, Minn. (PRWEB) October 29, 2014
In his retirement from being a school teacher, David Nicholson travels all over the world as both a flight attendant and short-term missionary. Whatever comparisons might be made between the two globetrotting, gift-giving and grandfatherly figures; Nicholson's new children's book is not about Santa Claus.
Although they both traverse the world attempting to spread joy, Nicholson's book—a reimagining of the classic Christmas story "If He Had Not Come" by Nan F. Weeks—looks back to the true foundation of the holiday season.
"After I heard Weeks' story for the first time, I was driving home with my young family and thought to myself, 'I am going to read this story to my family this and every Christmas to come,'" Nicholson said. "After nearly 30 years of sharing this simple thought-provoking story with my family, I felt a compelling urge to resurrect and reintroduce it for a new generation of children and their families."
The story focuses on Bobby, a boy who goes to bed on Christmas Eve and like a typical person his age, he is very excited to open his presents in the morning. After falling asleep, Bobby enters a world in which Jesus had never existed. In this strange new world, not only are Bobby's presents gone, but so too are the hospitals, homeless shelters and children's homes.
"I want readers to understand that life would be very different had Jesus not come to Earth," Nicholson said. "I hope that children who read this book will realize—like Bobby does—that the very best Christmas gift is not under the tree, but in their hearts."
The retelling of "If Had He Not Come" features new illustrations by Charles Jaskiewicz and includes enrichment activities that parents and sunday school teachers can use to enhance a child's reading experience.
For more information, visit http://www.davids-treehouse.com
"If He Had Not Come"
By David Nicholson
ISBN: 978-1-4908-1810-8 (hc); 978-1-4908-1811-5 (e)
Hard Cover: $18.95
E-Book: $3.99
Available on Amazon, Barnes & Noble and WestBow Press
About the author
David Nicholson is a retired schoolteacher who enjoys spending time volunteering with mission organizations and playing with his grandchildren. He and his wife Barbara reside in St. Paul, Minnesota and are donating all book-sales proceeds to the National Christian Foundation.
# # #
**FOR IMMEDIATE RELEASE**
For review copies or interview requests, contact:
Matt VanScoik
317.602.7137 | mvanscoik(at)bohlsengroup(dot)com