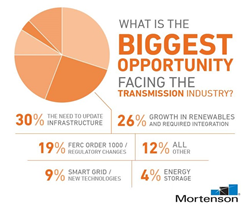 "We expect FERC Order No. 1000 will help lead to a major build-out of the U.S. electrical grid over the next 10 years," says Mark Donahue, vice president, Mortenson Construction
Minneapolis, MN (PRWEB) October 28, 2014
Utilities see themselves losing ground to new competitors as the U.S. strives to significantly expand and strengthen its electrical grid, according to a Mortenson Construction survey of utility executives and the engineers and suppliers that support them at the 2014 IEEE PES Transmission & Distribution Conference. The winners, driven by regulatory changes mandated by the U.S. Federal Energy Regulatory Commission's (FERC) Order No. 1000, will include renewable energy providers, new transmission line developers and independent power suppliers, utility executives say.
The survey findings also show there are strong differences of opinion about how the future of U.S. energy transmission will unfold and how much change will take place over the next 10 years. This is despite a universal need for the design and construction of new transmission lines to address shifting sources of electricity generation, new regulations, and challenges from aging infrastructure.
"We expect FERC Order No. 1000, along with growing customer interest in more renewable energy sources and the need to upgrade the nation's outdated infrastructure, will lead to a major build-out of the U.S. electrical grid over the next 10 years," says Mark Donahue, vice president and general manager of Mortenson's high voltage transmission practice. "One of the big questions is who will lead this build-out: traditional public utilities or some of the many companies investing in new smart grid technologies and privately funded power lines?"
Utility executives are evenly split on that matter, with 52% predicting the industry will look the same or only a bit different a decade from now. The other 48% say the industry will be different or very different in 10 years. Either way, two-thirds, or 67%, of utility executives say FERC Order No. 1000 will have a significant or very significant impact on the level of transmission competition while the remaining 33% expect a moderate impact.
The Mortenson survey covers such issues as expected transmission investments, biggest industry opportunities and outlook for emerging technologies including smart grids, distributed generation and electricity storage. It also includes utility executives' predictions on the future of renewable energy and construction issues facing transmission projects.
One thing is certain: The industry must achieve a new level of safety performance in the design and construction of new transmission lines to successfully capitalize on this inflexion point, says Donahue. "Building transmission lines is an inherently high-risk business, and the industry record on injuries and fatalities is troubling."
"The transmission industry needs to aggressively move to adopt proven approaches that have allowed other industries to make huge strides in improving worker safety while also increasing development quality and efficiency and lowering costs. The result will help utilities and developers save lives, save development time and save money," he says.
About Mortenson High Voltage Transmission
Since the 1950s, Mortenson has built some of North America's largest and most complex energy projects. Mortenson provides a range of services – from Engineering, Procurement and Construction (EPC) contracts to construct-only services – for transmission lines, substations and HVDC converter stations that require complex coordination and planning.
About Mortenson
Founded in 1954, Mortenson is a U.S.-based, family-owned construction and development services company. As one of the nation's top builders, Mortenson provides a complete range of construction services, including planning, program management, preconstruction, general contracting, construction management, and design-build. The company also is a leader in real estate development; developing all asset types.
Mortenson has offices in Chicago, Denver, Iowa City, Madison, Milwaukee, Minneapolis, Phoenix, Portland, San Antonio, Seattle and Toronto. For more information, visit mortenson.com.