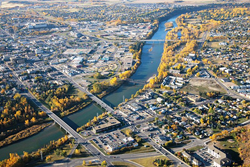 Red Deer has much to offer that many Canadian cities can't compete with. That being said, scrutiny under the national microscope has its advantages. I expect the attention will bring many more interested buyers to the table.
Red Deer, Alberta (PRWEB) October 30, 2014
Red Deer is still reeling with excitement over last month's announcement that the city won its bid to host the 2019 Canada Games. It's a "transformational opportunity," said Red Deer City Manager, Craig Curtis, in a recent interview with The Red Deer Advocate, "which will change the city because of the facilities and upgrades necessary to host the event in five years."
The question is, how will it affect Red Deer's real estate market? "Typically, that depends," says Rebecca Benedict, Broker at Benedict Devlin Real Estate in Red Deer. "The overall economic legacy for Canada Games host cities includes an influx of investment capital, improved infrastructure and amenities, new business development, national media exposure and increased tourism, among other benefits.
"Of course adding more amenities to any community has a positive impact and draws new homebuyers, so the Red Deer real estate market will surely benefit, but the key is planning so these benefits stay and stick.
"Potential liabilities of host cities include venues constructed for specialized sports that aren't likely to remain active after the event or where the population numbers don't support use afterwards, but I have a great deal of confidence in our planning committee, so I'll be anticipating an active real estate market in the next 10 years."
Chair of the Red Deer bid committee, Lynn Radford, outlined a long-term plan for new facilities in a recent Alberta Morning News interview. "Legacy projects are more than just new buildings," she said.
With a new speed skating oval being built, Radford said the plan is "to turn a park that is popular in the summer to an attraction that can be used year round." As for the community's pool, Radford added, "a partnership has been made with a synchronized swimming group in Calgary." It seems Red Deer has the future covered.
The March 2014 Initiatives Prince George Economic Development Corporation report, created in anticipation of the city of Prince George, BC, hosting the 2015 Canada Winter Games, points out the advantages to the city. An economic boost, attracting new businesses and diversifying the economy were among the key benefits listed, all of which point to a stable real estate market.
Similarly, as the Halifax construction sector forecast is steady growth during the two years prior to hosting the Pan Am games next year, the same holds true for Red Deer's construction industry and that means more jobs, more income and more housing. Halifax's statistics are precisely what one would expect, with emphasis on infrastructure first. The non-residential construction sector led Nova Scotia's economy with major projects in 2012 and reflect a decline in residential housing, but the reverse is expected for the next 2 years, with residential real estate as the forerunner.
"Although certainly not on the same scale, if Sochi and Lillehammer offer lessons in legacy effects of hosting the Olympic Games, then future host cities can expect new real estate development as well as stimulation of further property development and private investment," Benedict said. "As a community in which I live, work and thrive and for all its charm, heritage, culture and big city amenities surrounded by alluring parks and green spaces, Red Deer has much to offer that many cities can't compete with. That being said, scrutiny under the national microscope has its advantages. I expect the attention will bring many more interested buyers to the table."
For more information about Red Deer Real Estate and market trends, visit http://www.benedictdevlin.com or call Rebecca Benedict at (403) 307-3737