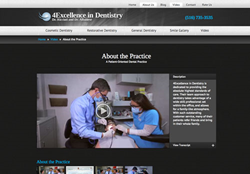 "By watching these videos, you get a sense of our personalities and what we care about" - Dr. Albanese
Levittown, New York (PRWEB) October 29, 2014
4Excellence in Dentistry is pleased to announce the launch of its new video website. The video website maintains the clean and functional design of the current 4Excellence in Dentistry website but features professionally shot and edited videos, including interviews with the dentists, patient testimonials, and detailed information about dental health services and dental care technology.
"We're so excited to bring our website to the next level," said Dr. Lewis Ricciuti. "Our practice has always been at the forefront of dental technology. Now, so is our website."
Enhancing the Web Experience
By incorporating videos into the website, the experienced team of dentists at 4Excellence in Dentistry is keeping up with the new realities of the Internet. The videos provide an impression of 4Excellence in Dentistry that text and photos cannot provide. The video website will help prospective patients better understand what the practice is like and why current patients of 4Excellence in Dentistry are so loyal.
"The video website gives site visitors a real sense of who we are and why our patients love us," said Dr. James Albanese.
A Chance to Meet the Team
The videos feature numerous interviews with Dr. Lewis Ricciuti, Dr. James Albanese, and Dr. Jennifer Moore. Each dentist offers insights into the work they do based on their diverse experiences. In every appearance, the dentists of 4Excellence in Dentistry speak from the heart rather than offering canned statements and the same cliched soundbites.
"By watching these videos, you get a sense of our personalities and what we care about," said Dr. Albanese. "We care about the patient, first and foremost, and we care deeply about the profession and how we can help each other."
Informing Patients about Treatments and Technology
Descriptions of dental treatments only go so far, and it can be difficult to understand what a procedure involves without being at the practice in person for a consultation. The video website helps by showing actual instruments being used and the devices at work. By improving patient understanding, 4Excellence In Dentistry increases patient satisfaction and reduces patient anxiety.
Video Testimonials from Actual Patients
While there were already testimonials and reviews on the 4Excellence in Dentistry website, the video website goes one step further. The new site features video testimonials with actual patients at the practice. One of the patients has been visiting 4Excellence in Dentistry for 25 years.
"4Excellence in Dentistry isn't just about the dentists and staff, it's also about the patients who put their trust in us," said Dr. Lewis Ricciuti. "These testimonials give them a voice, and hearing them helps people understand why we've been a proud part of this community for decades."
About 4Excellence In Dentistry
Serving Nassau County for more than 35 years, 4Excellence In Dentistry offers comprehensive dental care treatments for patients of all ages, including the latest in smile enhancing cosmetic dentistry, restorative dentistry, and general and preventative dental care for the whole family. Committed to using the latest technology and providing positive experiences to patients during every visit, 4Excellence In Dentistry has established itself as one of the leading practices in the region.
Dr. Lewis Ricciuti, Dr. James Albanese, and Dr. Jennifer Moore have more than 50 years of combined experience, creating an excellent collaborative environment that fosters patient education and optimal wellness.
Schedule a Consultation at 4Excellence In Dentistry
To schedule a consultation at 4Excellence in Dentistry or to learn more about the practice and the comprehensive dental care services that are offered, interested parties are encouraged to contact the practice directly.
4Excellence In Dentistry
3000 Hempstead Turnpike Suite 101
Levittown, NY 11756
(516) 735-3535
Originally posted by 4Excellence in Dentistry