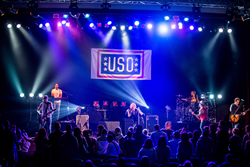 Arlington, VA (PRWEB) October 28, 2014
Multi-platinum rock band Daughtry just wrapped up spending a week with airmen, sailors, Marines and their families stationed in Japan as part of their second performance-filled USO tour Oct. 17 - 23. Having thanked the Pacific military community for their service and sacrifice, Daughtry treated military ID holders and their guests to four, free, hit-filled USO shows.
On the same day the band's moment-filled USO tour came to a close, the White House announced that a performance from Daughtry's USO visit to Yokota Air Base will be shown on the South Lawn of the White House on Nov. 6 as part of a taping of the PBS Veterans Day music special "A Salute to the Troops: In Performance at the White House." For those unable to attend the star-studded White House concert on Nov. 6, the event will be streamed at WhiteHouse.gov/live starting at 7:25 p.m. EST. Hosted by President Barack Obama and First Lady Michelle Obama, "A Salute to the Troops: In Performance at the White House" will premiere nationwide on PBS on Friday, Nov. 7th at 9:00 p.m. ET. The program will also be broadcast on Tuesday, Nov. 11 via the American Forces Network. The sixty-minute program, which will feature Daughtry as well as other notable artists along with a live-viewing audience of active duty troops at the USO Warrior and Family Center at Fort Belvoir, is part of the Emmy Award-nominated "In Performance at the White House" series.
DETAILS:

As part of the moment-filled USO visit to Japan, Daughtry took their signature sound and chart breaking hits to hundreds of airmen and military families stationed at Misawa Air Base (Oct. 19) and Yokota Air Base (Oct. 20) as well as to sailors at Yokosuka Naval Station (Oct. 21); and Marines stationed at Marine Corps. Air Station Iwakuni (Oct. 22).
This tour marked the second USO tour for the multi-platinum rock band, who performed their first USO show at Fort Bragg, North Carolina in April 2010.
Multi-platinum band Daughtry has won four American Music Awards, earned four No. 1 Top 40 hits and garnered four GRAMMY Award nominations. Their self-titled debut album was the fastest selling rock debut in SoundScan history and its follow up, Leave This Town, marked the quintet's second consecutive No. 1 album. Their newest album, Baptized, was released in November 2013. The band dedicates its resources and time to supporting service members and their families. They have performed in concerts for the troops at military bases around the world and across the United States.
MULTI-MEDIA:
USO Tour Photos: http://bit.ly/1vRVW6A
About the USO
The USO lifts the spirits of America's troops and their families millions of times each year at hundreds of places worldwide. We provide a touch of home through centers at airports and military bases in the U.S. and abroad, top quality entertainment and innovative programs and services. We also provide critical support to those who need us most, including forward-deployed troops, military families, wounded warriors, troops in transition and families of the fallen. The USO is a private, non-profit organization, not a government agency. Our programs and services are made possible by the American people, support of our corporate partners and the dedication of our volunteers and staff.
In addition to individual donors and corporate sponsors, the USO is supported by President's Circle Partners: American Airlines, AT&T, BNSF Railway, Clark Construction Group, LLC, The Coca-Cola Company, Grand Canyon University, JCPenney, Jeep, Johnson & Johnson, Kroger, Northrop Grumman Corporation and TriWest Healthcare Alliance and Worldwide Strategic Partners: BAE Systems, BIC, The Boeing Company, ConAgra Foods, FedEx, Harris Teeter, Lockheed Martin, Microsoft Corporation, Procter & Gamble, TKS Telepost Kabel-Service Kaiserslautern GmbH & Co. KG and Wawa Inc. We are also supported through the United Way and Combined Federal Campaign (CFC-11381). To join us in this important mission, and to learn more about the USO, please visit uso.org.