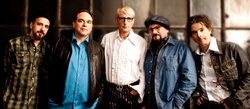 Fairfield, CT (PRWEB) November 01, 2014
Halloween may have come and gone, but the Fairfield Theatre Company will continue dishing out treats this holiday weekend as they welcome back the best Beatles re-creationists out there, The Fab Faux, at 8 p.m. on Saturday, Nov. 1 at the Klein Auditorium.
Those who haven't heard The Fab Faux's meticulous full renditions of a Beatles album replicated are certainly in for a treat because The Fab Faux are truly a spectacle that must be seen, and an excellent concert experience for any budding music fan or veteran.
Considered without a doubt the most music-centered tribute band today, The Fab Faux all-star lineup includes Grammy Award-winning bass player Will Lee, who perhaps is best known as the bassist for over two decades on "The Late Show with David Letterman." He has also lent his considerable talents to well over 1,000 pop, jazz and rock albums. Guitarist Jimmy Vivino serves as the Music Director on the TBS late night show "Conan" and has recorded and played live with such legends as Johnnie Johnson, Hubert Sumlin, Al Kooper and the late Levon Helm. Jack Petruzzelli, the Brooklyn-based multi-instrumentalist is considered one of the most sought after and respected musicians on the scene and has recorded and toured with everyone from Rufus Wainwright to Joan Osborne, music legends Patti Smith and Ian Hunter to budding underground sensations.
Rich Pagano, New York's best sideman, is known for his expertise in producing, recording and playing drums for such artists as Patti Smith, Rosanne Cash, Robbie Robertson, Ray Davies, Willie Nile, gospel icon Marie Knight, Joan Osborne, Levon Helm, and Mott The Hoople legend Ian Hunter. Lastly, Frank Agnello has played with such artists as Marshall Crenshaw, Badfinger's Joey Molland, Phoebe Snow, Al Kooper, Mike Viola, Jill Sobule, Jackie DeShannon, Willie Nile, Richard Lloyd and Ivan Julian just to name a few.
Fans of the Beatles should get ready because The Fab Faux will present a set of classic, fan-favorite Beatles tunes including such classics as "Lucy In the Sky with Diamonds," "Being for the Benefit of Mr. Kite," "Lovely Rita" and of course, "A Day in the Life" as they perform "Sgt. Pepper's Lonely Hearts Club" in its entirety.
The Fab Faux doesn't just stand there and dress to play the part, but they put on a show that is certainly worthy of any true Beatlemaniac. They "will invigorate the artistry of even the Beatles' most intricate studio masterpieces with top chops and Beatlemaniac glee," says Rolling Stone's senior editor David Fricke.
Ready for a night of incredible music that will have everyone singing and dancing in the aisle? Then let Fairfield Theatre Company introduce you to the one and only, The Fab Faux.
The Fab Faux
Date: Saturday, Nov. 1
Doors: 7 p.m.
Show: 8 p.m.
Venue: The Klein 910 Fairfield Ave., Bridgeport, CT 06605
Tickets: $45 - $95 Adv. Members Discount $5 - $10
Buy tickets: Box Office: 203.259.1036 or reserve online: http://www.fairfieldtheatre.org
About the company:
Fairfield Theatre Company is a highly-acclaimed non-profit performing arts organization located in the heart of downtown Fairfield, Connecticut. FTC presents nearly 250 performances and concerts each year featuring outstanding national talent on FTC's StageOne in Fairfield, The Klein Auditorium in Bridgeport, and the Norwalk Concert Hall in Norwalk. FTC's intimate 200-seat StageOne concert venue is widely recognized as being one of the best places to see a live performance in the region. FTC is dedicated to providing the highest-quality arts, live entertainment and educational experiences to the communities it serves.