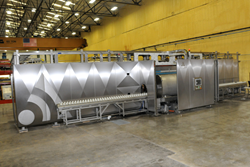 "The addition of their new 525L will allow us to double our current HPP capacities..."
Erlanger, Kentucky (PRWEB) October 30, 2014
Avure Technologies celebrates a year of success and the one-year anniversary of the 525L, the newest member of its fleet of high volume High Pressure Processing (HPP) systems.
"We're thrilled to be reaching an anniversary as we return to PackExpo this year, which is where we first announced the 525L a year ago in Las Vegas," said Jeff Williams, CEO at Avure. "Sales of the new Avure machine are going extremely well, and we're pleased to be meeting the challenges of market demand for higher throughput. We sold our first 525L to a customer we met in Las Vegas at the launch, and have continued with strong sales since. We're driving strong into 2015, even selling two systems in one week this October."
One of the 525L systems sold last week will be delivered to long-time Avure customer Garden Fresh Gourmet, makers of the popular Jack's Special Salsa and fresh dips, spreads, chips, and other gourmet fresh foods. The 525L can be seen at http://www.avure-hpp-foods.com/hpp-equipment/525l.
"Garden Fresh is excited to continue our partnership with Avure," said John J. Latella, co-CEO and General Counsel at Garden Fresh Gourmet and El Matador Great Fresh Foods. "The addition of their new 525L will allow us to double our current HPP capacities within essentially the same footprint as our current Avure 350L."
"There are many design features and upgrades that will allow us to reduce operating costs and become more efficient in our operations," Latella added.
Avure stands behind the commitment it made three years ago to build a new system that would meet growing customer demand and requirements for efficiency and productivity.
"The 525L is unique because it is the only machine on the market that can produce at throughputs that are in the range of other commonly used food equipment in the industry—the vessel is not just large in volume but also in diameter, and the speed at which the vessel is pressurized is unprecedented," said Patrick Ditchfield, Vice-President of Sales for Avure.
The Avure QFP-525L boasts the largest diameter of any HPP system in the world, which increases loading efficiencies and flexibility of package size. It's the only system that can run 10 cycles per hour with a 3-minute hold that is common for meat products. And the 525L is designed so that the high-pressure wear parts have more standard sizes and can be accessed easily for replacement and maintenance.
Dan Rack, Avure Vice-President of Operations is quick to point out, however that "It's not just about the number of liters on a nameplate. It's about total throughput and productivity, and no other system can come close."
Rack underscored his comment: "The Avure 525L has dramatically the best ratio of CapEx to production, as well as cost of operations. That fact alone is helping a lot of companies explore using HPP on products that were not economical in the past."
PackExpo Las Vegas 2013 was the site of the official public launch of the 525L, and PackExpo International 2014 in Chicago will be Avure's stage for announcing the naming of an entire family of HPP systems for various applications, customer productivity needs, and research. The new naming system will align with the new reality in the industry that the size of the vessel is not an indicator of the productivity of the machine.
For more information about high pressure processing systems and services, visit Avure's website at http://www.avure-hpp-foods.com. Follow Avure on Twitter @AvureHPP.

ABOUT Avure Technologies
HIGH PRESSURE PASTEURIZATION (HPP) is cold pasteurization in pure water; it uses ultra-high pressure purified water to keep packaged food pathogen-free to stay fresh longer. At very high pressures bacteria such as Listeria, E. coli, and Salmonella are inactivated. Foods using HPP include ready-to-eat and ready-to-cook meats, ready-meals, fruits and vegetables, juices and smoothies, soups and sauces, wet salads and dips, dairy products, seafood and shellfish. HPP helps producers increase food safety and extend shelf-life while providing consumers with nutritious, natural, flavorful food. More information is available at http://www.avure-hpp-foods.com/
AVURE helps producers implement HPP from recipe development to installation and beyond of the fastest and most reliable systems. AVURE equipment is used to treat the majority of all HPP-protected food around the world.
ABOUT Garden Fresh Gourmet
Maker's of the popular Jack's Special Salsa, gourmet dips, spreads, chips, and other healthy snacks and entrees, Garden Fresh Gourmet is dedication to freshness and safety. Garden Fresh is a long-time believer in high pressure processing to naturally preserve its gourmet products so their hand-made freshness and taste can be enjoyed by their valued customers in a wide variety of markets. Vist Garden Fresh's site to learn more: http://www.gardenfreshsalsa.com.