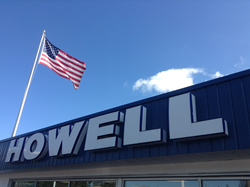 Lockport, NY (PRWEB) October 28, 2014
Howell Motors Ford is honoring the service and sacrifice of local veterans by participating in the "Thank a Vet" discount program.
Under the program, eligible veterans will receive a photo ID card, which will allow them to receive discounts on purchases or services from participating county merchants. Each merchant that participates in the program will have their name, logo, address and discount information displayed on the Niagara County website. Each business will also receive a decal to put on display and show their support of the Niagara County veterans.
There are 248 businesses participating in the program in Niagara County. Other businesses can opt to participate on the Niagara County website at http://www.niagaracounty.com/CountyInformation/ThankaVetProgram.aspx.
Howell Motors Ford is offering a 10 percent discount on parts and service, as well as $100 off any new or pre-owned vehicle purchase. These discounts are not applicable on A/Z/X/D plans.
"We at Howell Motors are proud of our veterans," said Mike Landers, president of Howell Motors Ford, Inc. "We truly appreciate the service they have done for our community and our country. Our contribution to them, through the Niagara County Thank a Veteran Program, is smaller than the huge contribution they have made to our country and community. This is just another way we give back to the community that has been so good to us."
About the company:
Howell Motors Ford dealer has served Lockport, NY since its relocation from Newfane in 1988. A company that has been around for a century (founded in 1914), Howell Motors Ford is the finest new and used car dealer in the area. Featuring a full range of customer service and auto repair options, Howell Motors Ford has built a reputation that has lasted because of the full range of service and quality of cars they sell. They offer new Ford cars, crossovers, SUVs, trucks and more. For the best service and finest products, look no further than Howell Motors Ford, one of the oldest Ford dealerships in the country.