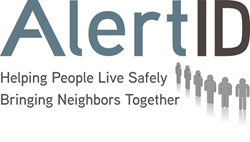 Being aware of potential threats in our neighborhoods is crucial to helping families and communities protect themselves.
Las Vegas, NV; San Francisco, CA; Arlington, VA (PRWEB) October 29, 2014
Halloween is one of the most anticipated nights of the year for kids. AlertID, the fastest growing free-to-use neighborhood safety network, and the National Crime Prevention Council (NCPC), home of McGruff the Crime Dog®, offer tips on how families can stay safe while trick-or-treating. "With all of the excitement that Halloween brings, it's easy to let your guard down," said NCPC President and CEO Ann M. Harkins. "By following these simple safety tips, families can stay safe while still enjoying a fun, spooky holiday."
Trick-or-Treat Safety Tips include:

Parents should plan their child's trick-or-treat route and be familiar with homes and occupants on the route.
Parents may register for free at AlertID.com, enter their address and instantly see an easy-to-read map showing sex offenders residing or working in the vicinity as well as view sex offenders wherever they are in the neighborhood.
NCPC's McGruff Mobile app with AlertID also lets members receive alerts when new sex offender data becomes available, in addition to crime alerts in your community and thousands of cities nationwide.
Children should wear reflective tape on their costumes and carry flashlights or glow sticks when trick-or-treating during evening hours.
Snap a photo of your child prior to heading out on Halloween night and upload it, along with an accurate, up-to-date description, to AlertID's My Family Wallet™ (located online and on AlertID's free mobile app). If your child goes missing, parents can access the information on their smartphones and send it instantly to law enforcement when every moment counts. Make sure that the photo includes a complete view of the child from head to toe.
Only approach homes that are well-lighted, both inside and out; instruct children never to enter a home without parental permission.
Children should always trick-or-treat under the supervision of a trusted adult or teenager.
Encourage older children to trick-or-treat in groups because there is safety in numbers.
Younger children should always be accompanied all the way to the door of the home when trick-or-treating.
In the event they are grabbed by a stranger, instruct children to yell "This person is trying to take me!" or "This is not my mother/father!" and to resist by pulling, walking, or running away.
"Being aware of potential threats in our neighborhoods is crucial to helping families and communities protect themselves," said Keli Wilson, mom of three and founder, AlertID. "Our mission is to provide information and tools to help protect families and communities not just on Halloween, but every day."
To sign up for a free AlertID account, or for more information, please go to http://www.AlertID.com or download the McGruff Mobile app for iOS and Android.
About AlertID, Inc.
AlertID, your neighborhood safety network, is free to use and helps protect families and neighborhoods. AlertID's mission is to help members live safely by providing a secure way to receive trusted public safety alerts and share information with family members and neighbors. AlertID uses proven technology to help citizens and federal, state, and local authorities share information about crime, sex offenders, natural disasters, missing children and severe weather that can threaten public safety. AlertID is accessible to members online as well as by email and mobile app. For more information visit http://www.AlertID.com or download the app for iOS and Android.
Become a fan of AlertID: Friend us on Facebook | Follow us on Twitter
About the National Crime Prevention Council
The National Crime Prevention Council is the nonprofit leader in crime prevention. For more than 30 years, our symbol of safety, McGruff the Crime Dog®, has delivered easy-to-use crime prevention tips to millions of adults, teens, and children. Law enforcement agencies nationwide rely on our expertise to make an impact on personal safety and crime every day. For more information on how NCPC can be a public safety expert for you or how to "Take A Bite Out Of Crime®," visit http://www.ncpc.org.
Become a fan of NCPC: Friend us on Facebook | Follow us on Twitter | Find us on YouTube