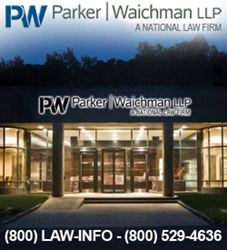 Port Washington, New York (PRWEB) October 28, 2014
Parker Waichman LLP, a national law firm dedicated to protecting the rights of victims injured by defective drugs and medical devices, announces that a Case Management Conference has been scheduled in the Mirena multicounty litigation organized in New Jersey. The conference is scheduled for 2:00 p.m. on November 18, 2014; the case is In Re: Mirena Litigation, Case Number 297. More than 1,000 cases have been filed in this litigation.
The conference will enable all of the parties involved in the consolidated proceeding to discuss lawsuits brought over the Mirena IUD that allege spontaneous device migration, uterine perforations and other complications associated with the birth control implant. According to the plaintiffs, Bayer Healthcare Pharmaceuticals' Mirena allegedly led to cervix or uterine wall perforation. Plaintiffs also allege that package labeling does not warn about spontaneous migration of Mirena and only states that migration may occur if the uterus is perforated during insertion. These cases were consolidated in May 2013 by the New Jersey Supreme Court for trial in the Superior Court of New Jersey, Bergen County.
Allegations also include that according to the U.S. Food and Drug Administration (FDA), the most serious side effects associated with the Mirena IUD are perforation of the uterine wall, embedment of the device in the uterine wall, intrauterine pregnancy, ectopic pregnancy, Group A streptococcal sepsis, pelvic inflammatory disease (PID), ovarian cysts, and breast cancer.
Parker Waichman LLP comments that it is involved with numerous lawsuits brought against Bayer over alleged adverse reactions associated with its Mirena IUD system and remains available to assist those individuals who have suffered injuries allegedly associated with the Mirena.
The attorneys at Parker Waichman LLP are actively involved in various Mirena IUD litigation: Partner Raymond C. Silverman has been appointed Co-Lead Counsel in the Mirena IUD multicounty litigation centralized in Bergen County, New Jersey. Matthew J. McCauley, Senior Litigation Counsel at Parker Waichman LLP, was previously appointed Co-Lead Counsel in the Mirena IUD multidistrict litigation in New York. Mr. McCauley also co-chairs the American Association for Justice (AAJ) Mirena IUD Litigation Group. The Group is actively involved in exchanging educational materials and medical literature in order to best represent victims.
Parker Waichman LLP continues to offer free lawsuit consultations to victims of Mirena IUD birth control. If you or a loved one experienced complications following the use of this device, please visit the firm's Mirena® IUD Side Effects page. Free case evaluations are also available by calling 1-800-LAW-INFO (1-800-529-4636).