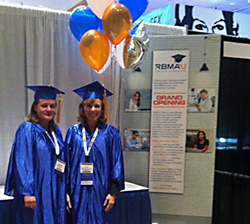 RBMA U participants will be able to complete both required and optional courses any time day or night from anywhere with an Internet connection
Fairfax, VA (PRWEB) October 29, 2014
As part of the Radiology Business Management Association (RBMA) mission to expand education and leadership development in the business of radiology, RBMA is pleased to announce the release of the first in a series of online "RBMA U" educational courses.
The initial offering is "Radiology Business 101," which introduces the basics of radiology business management, including an overview of fundamental management process — planning, organizing, controlling and leading — as applied to radiology. It is based on RBMA's Common Body of Knowledge and is designed as a survey course for the new manager, an introduction for those interested in exploring a business career in radiology, and a refresher course for more experienced managers.
"Even if you've been a manager for a while, it reinforces knowledge already gained and provides new ideas," said Carol Hamilton, MBA, SPHR, FACMPE, practice administrator of the West County Radiology Group in St. Louis, Mo., and a member of the committee that helped develop RBMA U. "Being a manager, even in a big practice, can be isolating, and unless you are coming to conferences regularly, you may be missing out on new ideas. RBMA U puts you in touch with the leading experts in radiology business and brings you up to date on the latest in radiology business management trends."
RBMA U faculty represented in the first offering, Radiology Business 101, include:

Kathleen G. Bailey, CPA, MBA, CPC, CPMA, CPC-I, CCS-P, an educator who specializes in providing training for coding certification (including ICD-10-CM), accounts receivable (A/R) management, managed care negotiations and physician relationships.
Keith E. Chew, MHA, CMPE, managing director of Strategic Positioning and Consulting Services at Integrated Radiology Partners, and a specialist in medical practice operations, new venture development and contracting subspecialties in the realm of radiology and imaging services.
Fred Downs, MS, PhD, of Diagnostic Imaging Specialists in Atlanta, Ga.
Carol Hamilton, MBA, SPHR, FACMPE, practice administrator at West County Radiological Group Inc. in St. Louis, Mo.
Wendy Lomers, CPA, MBA, RBMA Board of Directors members and immediate past-president of the Association, as well as chief financial officer of Acclaim Radiology Management in Longview, Texas.
Kim Longeteig, FRBMA, principal and creative director of Ali`i Marketing & Design, and an18-year veteran of radiology marketing, advertising, graphic design and social media.
Will Latham, a consultant who has helped medical groups make decisions, resolve conflict and move forward for more than 25 years.
"Because the offering is online, it really suits the need of busy radiology professionals and cost conscious organizations," said Stephanie Hatton, revenue cycle director for radiology management firm CMBS Medical Business Services in Arcadia, Calif., and a member of the RBMA U committee. "Online education is the future, and because organizations need to be mindful of their travel budgets, this offers an additional cost-effective educational option to sending employees to conferences."
The 48 initial class offerings cover the domains of Marketing & Business Development; Leadership; Human Resources Management; Operations Management; Quality, Compliance & Risk Management; Governance; Finance; and Information Management. Subjects range from practical finance and governance issues such an introduction to revenue cycle management and strategic planning to regulatory matters and health care reform, such as value-based reimbursement programs and the Centers for Medicare and Medicaid Services (CMS) Physician Quality Reporting System (PQRS) as it applies to radiology.
"Finding the time and resources for staff and manager education is a challenge for every business and one we well understand at the RBMA. That is why we are so proud to bring this resource to the field. RBMA U participants will be able to complete both required and optional courses any time day or night from anywhere with an Internet connection," said Deborah McFarlane, MBA, co-chair of the RBMA Educational Materials and Products Committee.
The majority of courses are now available for purchase on the RBMA website — Shop RBMA. Participants may purchase each course separately or enroll in the entire program at a discounted rate. Upon completion of a course, the student will receive a certificate. Upon completion of the entire program, the student will receive an engraved plaque, a complimentary registration to an RBMA conference and be included in a drawing to win a $500 travel scholarship.
About RBMA
The Radiology Business Management Association (RBMA) is a national not-for-profit association providing members with applied business information and intelligence applicable in any radiology setting. The RBMA has approximately 2,300 members involved in various management capacities in private practices, academic radiology groups, imaging centers and hospitals. The RBMA continues to be recognized as the leader for radiology-specific educational programs, products and services, publications and data.