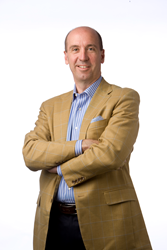 In the near future, the greatest change will be the accelerating rate of change itself.
Dallas, TX (PRWEB) October 29, 2014
The Lone Star State and the North Star State will join forces this Thursday when Minneapolis, MN-based futurist and trend expert Jack Uldrich keynotes TRUNO's 2014 Client Conference in Lubbock, TX. TRUNO, a national leader in integrated technology solutions focused solely on the retail industry recently rebranded this past August. Their new name is derived from the phrase "True North" and is meant to serve as a reminder that True North is constant.
TRUNO's mission never changes. And neither does Jack Uldrich's--as a futurist Uldrich strives to keep his clients on the move with the latest technological trends and keep them on task as how to adapt those changes through the concept of unlearning.
"Taking care of our customers is at the core of everything we do," says Brad Ralston, CEO of TRUNO. TRUNO delivers retailers secure, stable and integrated technology solutions enabling them to navigate through an environment of ever-changing regulation, competition and technology, and by utilizing a futurist like Uldrich, who travels the world speaking on cutting edge trends and how to embrace them, they are making good on their promises.
As the author of 11 best-selling books, including "The Next Big Thing is Really Small," and "Foresight 20/20." Uldrich makes a daily practice of researching trends and writing and speaking on them to a host of industries. He is a frequent guest on national media and regularly appears on the Science Channel's new television program, "FutureScape."
As a futurist Jack Uldrich doesn't try to predict the future he helps clients like TRUNO, ABB/Thomas & Betts, Verizon Wireless, CISCO, Cargill, Wells Fargo and countless others, prepare for it.
He speaks on topics like "Unlearning," "How the Internet Will Open a Future of Opportunities," and "The Big AHA." Uldrich says, "In the near future, the greatest change will be the accelerating rate of change itself." And he asks questions such as, "How will your business change? More importantly, how will you and your organization need to change?" Getting his clients to think about these things in greater depth is just the tip of the iceberg with his work.
His pursuit is focused and clear and his audiences are delighted with the results. "I have been doing professional development for 25 years and Jack is absolutely one of the top speakers I have observed. He uses humor, facts and creativity to get his message across. This was two years ago and many of our people still reference his talk," says Mike Smoczyk, of Kraus Anderson.
TRUNO is anticipating similar results and Uldrich looks forward to the opportunity to provide key insights into helping them maintain their goal of "promising to always press on and guide their clients towards security, stability, and integrated solutions when it comes to Retail Technology."
Parties interested in learning more about Jack Uldrich, his books, his daily blog or his speaking availability are encouraged to visit his website. Media wishing to know more about these events or interviewing Jack as a futurist or trend expert can contact Amy Tomczyk at (651) 343.0660.