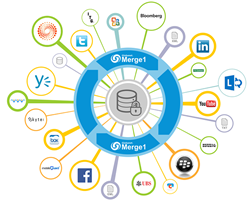 Los Angeles, CA (PRWEB) October 28, 2014
Globanet™, a leading developer and reseller of email archive migration, compliance and eDiscovery solutions, announced a new version of Globanet Merge1 with enhanced filtering and additional features for Yammer and Salesforce Chatter messaging systems.
Globanet Merge1 is an enterprise-grade message capture platform that retrieves data from a variety of messaging platforms including instant messages, text messages and social media communications. Once data is collected, Globanet Merge1 consolidates and transports it into a third-party archive system such as Symantec Enterprise Vault, Symantec Enterprise Vault.cloud, Microsoft Office 365, EMC SourceOne, HP Autonomy and Zantaz EAS.
As rules and regulations continue to adapt and change in regulated industries such as Finance and Healthcare, there is increasing pressure on IT and compliance professionals to preserve forms of corporate and employee communications beyond traditional email. The Healthcare Insurance Portability and Accountability Act (HIPAA), Securities and Exchange Commission (SEC) Rule 17 a-3 and a-4, and Financial Industry Regulatory Authority (FINRA) Rule 4500 & 2210 all require companies to retain this data in a third-party repository.
Globanet Merge1 works with the leading e-mail archives and enables organizations to collect and store data from a variety of sources that are typically not compatible with email archive formats. Globanet Merge1 enables organizations to capture new forms of communication and store them in their designated archive to meet internal corporate policies or external regulatory requirements.
Key Globanet Merge1 Version 5.4 improvements include:

Expanded Filtering Controls: Compound filters increase user control over how items are delivered to the target
Dynamic Mail Filtering: Plugs into an organization's Active Directory and syncs according to user-defined LDAP query
Yammer: Retrieves private messages and attachments in a user's feed
Salesforce Chatter: Retrieves private messages and attachments in a user's feed
SQL Express: Supports editions 2008 R2, 2012 and 2014; eliminating SQL license cost.
Exchange 2013 and Outlook 2013: Supports the latest versions of Exchange and Outlook
Pricing & Availability
Please contact Globanet at (888) 427-5505 or click here to request a per-seat or enterprise quote.
For additional information please visit http://www.merge1.com or http://www.globanet.com.
About Globanet
Globanet is a leading provider of email archive migration, compliance and eDiscovery solutions. Founded in 1996, the company is a pioneer in email archive migration and intelligent information governance and has developed a portfolio of enterprise software products to help organizations manage data from creation to expiry. Globanet's proprietary solutions include the Globanet Merge1 message capture platform and Globanet Migrate data migration software. Globanet also provides a broad range of professional services including policy and solution design, installation, configuration, email archive migrations, custom add-ons and project-based eDiscovery consulting. Globanet is a multi-level certified partner of leading archive providers including Symantec and Microsoft.