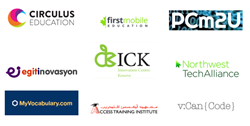 We currently have 12 partners around the world and our goal is to triple that in 2015
Bellevue, WA (PRWEB) October 30, 2014
EDUonGo, Inc., a cloud-based platform that hosts online academies, has announced an upcoming expansion in their partnership program.
EDUonGo equips individuals, small businesses and organizations around the world with the necessary tools to create online courses. Using the platform's straightforward, easy-to-use technology, customers can upload video lectures, create assignments and efficiently monitor student progress using their Web browser.
EDUonGo works closely with its partners to create complete solutions for schools and companies. The flexible partnership program includes various business models that allows EDUonGo to work with companies of all sizes. By either reselling EDUonGo or integrating the platform into their own products and services, partners are able to rapidly expand their product lines, increase revenue and have a high degree of influence on product development.
"Partnership is a key strategy for our growth," says Ridvan Aliu, CEO of EDUonGo. "We currently have 12 partners around the world and our goal is to triple that in 2015."
EDUonGo partners include Australian-based Circulus Education, digital education specialists who help organisations to improve their student outcomes and grow their business; Canadian-based First Mobile Education, a company that focuses on next generation learning by developing mobile eLearning technology; and MyVocabulary.com, a vocabulary site that provides vocabulary puzzles to K-12 schools (click on links to learn more about their partnerships with EDUonGo).
Become an EDUonGo partner and expand your business now! If you are an established company in your industry or an independent consultant, join the partnership program at https://eduongo.com/partners.
About EDUonGo
EDUonGo enables anyone to share knowledge through an online learning environment. Schools, institutions and individuals partner with EDUonGo to host online academies through its cloud-based platform. With more than 1,000 registered institutions and close to 30,000 users worldwide, EDUonGo is the fastest and most powerful way for anyone to launch an online academy. For more information, visit http://www.EDUonGo.com.