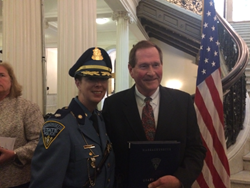 Woburn, MA (PRWEB) October 29, 2014
On October 17, 2014 AllOne Health's Associate Medical Director Brian Morris, MD, JD, MBA, MPH received a Massachusetts State Police Lifesaving Award in a ceremony held at the Massachusetts State House.
Dr. Morris received this award for his actions on August 30, 2013. While in Provincetown, MA Dr. Morris was seated on a bench outside of an art gallery when the owner rushed outside in a frenzy asking if anyone knew CPR, as an employee had collapsed. Without hesitation Dr. Morris indicated his medical background and headed into the gallery. Inside he found an elderly employee lying on the ground. He noticed her pale complexion which he knew indicated a compromised blood flow. Unable to find a pulse, he immediately began CPR. Within 30 seconds the employee regained consciousness and was able to speak a few words. At that time Provincetown emergency responders arrived on the scene and took the individual to Cape Cod Hospital. She was briefly hospitalized, discharged, and then able to return to work.
Approximately two months before this incident another AllOne Health employee, Bill Hoover, re-certified every AllOne Health physician in CPR. "Because of Bill's refresher course, I was particularly confident in my CPR skills that night in August 2013." Dr. Morris said.
Earlier this year Dr. Morris received an unprecedented two year extended appointment to the Federal Motor Carrier Safety Administrator Medical Review Board. The board is responsible for recommending physical qualification standards for commercial motor vehicle operators.
Dr. Morris received his Bachelor's and Medical Degrees from Brown University. He received a Master's Degree in Public Health from the Harvard School of Public Health. His medical resume includes an internship at Beth Israel Hospital in Boston, MA, a Diplomat for the National Board of Medical Examiners, and a Fellowship at Massachusetts General Hospital. In 1991, Dr. Morris earned a Juris Doctorate from the New England School of Law and was admitted to the Massachusetts Bar that same year. In 1993, he was Board-certified in Legal Medicine. Dr. Morris has been certified as a Medical Review Officer by the Medical Review Officer Certification Council and became Board-certified in Occupational Medicine following an occupational medicine residency in Philadelphia, PA. In 2008, Dr. Morris received his second Master's Degree in Business Administration from Yale University.
For over forty years, AllOne Health has been a leader in the occupational health, wellness, and compliance categories. In addition to providing occupational health services, AllOne Health also offers employee and student assistance programs, personal health, safety and wellness programs, and population health management.