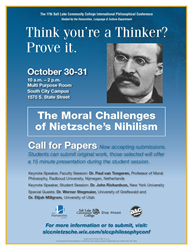 Salt Lake City, Utah (PRWEB) October 29, 2014
Salt Lake Community College will host the 17th annual International Philosophical Conference Oct. 30-31, 10 a.m. to 2 p.m. each day in the Multipurpose Room at South City Campus, 1575 South State Street, Salt Lake City.
The topic of this year's conference is "The Moral Challenges of Nietzsche's Nihilism." The keynote speakers are Nietzsche scholars Dr. Paul van Tongeren, professor of moral philosophy at Radboud University in Nijmegen, Netherlands, and Dr. John Richardson from New York University. Special guests include Dr. Werner Stegmaier from the University of Greifswald and Dr. Elijah Millgram from the University of Utah.
Conference organizers invited students to submit original papers about the topic and then give 15-minute presentations on their works during a student session. For more information about the Conference visit http://www.slccnietzsche.wix.com/slccphilosophyconf.
Salt Lake Community College is an accredited, student-focused, urban college meeting the diverse needs of the Salt Lake community. Home to more than 60,000 students each year, the College is Utah's leading provider of workforce development programs. SLCC is also the largest supplier of transfer students to Utah's four-year institutions and a perennial Top 10 college nationally for total associate degrees awarded. The College is the sole provider of applied technology courses in the Salt Lake area, with multiple locations, an eCampus, and nearly 1,000 continuing education sites located throughout the Salt Lake Valley. Personal attention from an excellent faculty is paramount at the College, which maintains an average class size of 20.