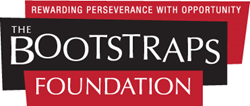 Because of Accurate Mortgage, one more student will continue to persevere in college next year
Nashville, TN (PRWEB) October 29, 2014
Accurate Mortgage, the local mortgage lender with over 10 years experience in providing excellent customer service to the Middle Tennessee area, is proud to partner with the Bootstraps Foundation in Nashville to provide a scholarship to a worthy student this coming May.
Mike Hoover and Joe Stanford, founders of Accurate Mortgage, believe strongly in giving back to the community that has supported their business over the years, and agreed that providing a scholarship for a child that has overcome great adversity is just the way to do that. "We see families from all walks of life in our business, and know first hand the challenges children can face in trying to further their education", says Mike Hoover, owner of Accurate Mortgage. "Providing a scholarship to a child who is facing adversity and choosing to excel is an awesome way to give back."
The Bootstraps Foundation was established in 1986 to champion the higher educational needs of Middle Tennessee students who have demonstrated the effort and will to succeed in the face of adversity. They are committed to the education of our young people, for they will soon be the leaders of our communities, our businesses and our country, and have granted OVER $1 million in scholarships since its inception.
"Accurate Mortgage gets it" said Joe White, Chairman of the Bootstraps Foundation, "Mike and Joe know that the American Dream of home ownership starts with education so they reached out to us at The Bootstraps Foundation and offered to help us. Because of Accurate Mortgage, one more student will continue to persevere in college next year".
The Bootstraps Foundation accepts a limit of one nomination per school for each year's awards. The student is to be nominated by the principal and faculty of each school. Award winners are selected from the nominees by a panel of judges who understand the concept of "pulling yourself up by your bootstraps." Finalists are notified and asked to meet with the Bootstraps' Selection Committee for a personal interview. Award winners are notified and then presented at The Bootstraps Foundation Annual Banquet held each May in Nashville.
"We look forward to meeting the winner of our scholarship this spring and following their collegiate career", says Joe Stanford, co-owner of Accurate Mortgage. "It is exciting to know that we are helping to shape the future of a Middle Tennessee child."
Locally owned and operated, Accurate Mortgage has served the Nashville area's mortgage needs for nearly 10 years. Mike, Joe and their team of experts provide top notch mortgage services with a real focus on quality customer service.
For more information visit http://www.accuratemtg.com.