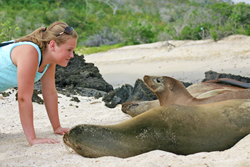 HELENA, Ala., (PRWEB) October 28, 2014
International Expeditions is offering travelers a chance to reconnect with nature and take advantage of complimentary international airfare — up to $1,000 per person — on two small-ship Galapagos expedition cruises departing January 30 and April 10, 2015.
The Galapagos Islands are popular year-round with visitors, with both January and April offering distinct highlights. January is an ideal time for avid snorkelers to visit the Galapagos, as this month provides the best underwater visibility. Guests can take advantage of International Expeditions' daily swimming and snorkeling excursions, where they are joined in the water by sea lions, golden rays and some of the archipelago's 86 endemic marine species. April guests will enjoy the archipelago's warmest water temperatures — averaging 77°F — as well as opportunities to see nesting green sea turtles, marine and land iguanas, and frigatebrids.
On IE's Galapagos cruises, guests travel aboard the 32-guest yacht M/V Evolution, enjoying a 2-to-1 guest-to-crew ratio led by three naturalist guides. These highly trained guides share their in-depth knowledge during nightly lectures and in the field while bringing guests within inches of giant tortoises, blue-footed boobies, penguins and other animals. The Evolution offers ample public areas, including a lounge/library, sun deck, al fresco dining area and bar, where guests are greeted with a towel and glasses of fresh, exotic juices after excursions.
In addition to daily snorkeling and hiking through deserts, rainforests and volcanic terrain, other highlights include a visit to the volcanically active island of Fernandina to search for flightless cormorants and the largest marine iguanas. IE travelers will also stop at the Charles Darwin Research Center, famous for its tortoise breeding programs, and explore outlying Genovesa (Tower) Island, with an opportunity to swim, kayak and snorkel in the calm caldera of this partially eroded volcano.
Prices for the Galapagos Islands cruises start at $5,298, and include accommodations, all excursions, most meals, transfers and tips to porters and waiters for included meals.
For information on other travel deals or a Galapagos Islands brochure, contact International Expeditions at 800-633-4734.
Celebrating 35 years of engaging nature travel, International Expeditions specializes in small-group journeys to Earth's most exhilarating destinations. A pioneer of environmentally responsible travel, IE is committed to preserving natural habitats and improving the welfare of the people and communities it visits. IE is a founding member of the International Galapagos Tour Operators Association (IGTOA), an non-profit organization dedicated to the lasting protection of the Galapagos.