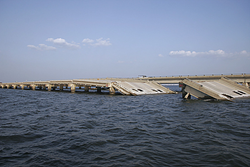 This approach stems from Superstorm Sandy and other recent disasters that demonstrated the interdependencies of buildings and infrastructure systems and the ability of a community to recover.
New York (PRWEB) October 28, 2014
The National Institute of Standards and Technology has named HNTB Corporation transportation infrastructure resiliency experts Ted Zoli, PE, and Joe Englot, PE, as NIST Fellows and members of the newly created Disaster Resilience Framework team. Comprised of experts in the fields of transportation, community resilience planning, electrical power infrastructure, emergency planning and response, social dimensions and water infrastructure, the team will provide crucial public and private stakeholder perspectives and assist NIST staff in establishing a Disaster Resistance Standards Panel.
Zoli and Englot will be involved in the program for one year. During that period, an ongoing process of resiliency standards research and development will generate a series of reports that will lead to the development of the Disaster Resilience Framework.
Focused on buildings and infrastructure systems at the community level, the Disaster Resiliency Framework team will help communities better prepare for, absorb, recover from and adapt to adverse events due to natural or human causes. This approach stems from Superstorm Sandy and other recent disasters that demonstrated the interdependencies of buildings and infrastructure systems and the ability of a community to recover. The framework will identify new priorities for standards development and other actions that will help communities better prevent hazards from becoming disasters.
Zoli and Englot, designated as NIST Fellows, are based in the HNTB's New York City office and will join other recognized leaders in their respective fields.
HNTB has an extensive background in disaster recovery and resiliency, including projects on the Gulf Coast after Hurricanes Katrina, Rita, Gustav, Ike, Dolly and Tropical Storm Eduoard, as well as in the Northeast United States after Superstorm Sandy. Gulf Coast efforts included work with states and localities helping to maximize federal reimbursement, management and administration of cost recovery for the Federal Emergency Management Agency, Federal Transit Administration, Federal Highway Administration, and the U.S. Department of Housing and Urban Development. Superstorm Sandy projects include work with Amtrak, New Jersey Transit, the Port Authority of New York & New Jersey, and the Metropolitan Transportation Authority of New York City.
About Ted Zoli
Ted Zoli is HNTB's national bridge chief engineer, senior vice president and a MacArthur Fellow Genius grant recipient – the first structural engineer to ever receive that recognition. He has been at the forefront of the bridge community in developing protective measures for extreme events. His innovations include protective measures for the main cables and hangers of suspension bridges incorporating advanced composite materials. His continuing research in this area also has looked into fire effects on bridge components, which have become a major consideration in bridge design.
About Joe Englot
Joe Englot has more than 40 years of experience in projects that reduce the vulnerability of bridges, tunnels and transit facilities to malevolent acts through the use of physical hardening, surveillance and incident management, as well as projects to rehabilitate and retrofit structures against the effects of natural hazards and general structural deterioration. He also has extensive experience in damage assessment and disaster recovery of transportation facilities due to acts of terrorism, ship collision, truck collision and storms.
About HNTB
HNTB Corporation is an employee-owned infrastructure solutions firm serving public and private owners and contractors. Celebrating a century of service, including more than 90 years in New York, HNTB understands the life cycle of infrastructure and addresses clients' most complex technical, financial and operational challenges. HNTB's New York offices currently employ more than 400 full-time professionals in nine tri-state locations. Professionals nationwide deliver a full range of infrastructure-related services, including award-winning planning, design, program management and construction management. For more information, visit http://www.hntb.com.