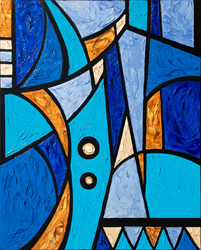 "I want to create art that is beautiful and makes your heart sing." – JD Miller
Dallas, TX (PRWEB) November 06, 2014
Creating images, which extend into the space around them and meet us in our realm of the three-dimensional, Miller uses a sculptor's application of oil paint to challenge the conventional strategies of his chosen medium. Miller's paintings perpetuate the Reflectionist philosophy, engaging the viewer with dynamic contours, light play, and visibility, and revealing at every viewing angle different insight into the conglomerate layers of positive energy.
In Luminous Levitation, Miller's paintings take on new proportions, as he showcases some of his largest creations yet, in addition to oeuvres in completely new media. Miller's massive, nine-feet-tall oil paintings combine his three-dimensional oil painting techniques with a precise and delightful command of color. In addition, he will debut his new sculptures created with 3-D acrylic applied to thick sheets of plexiglass, which are illuminated from within. The result is startling–– floating, fully holographic images whose pedestals grant them a 360-degree visibility, to be seen from every angle. Miller's creations continue to be unique, tactile worlds of color and shape that allow the viewer to penetrate into the depth of the universe through their artistic representations.
JD Miller utilizes a multifaceted artistic language, which brings together the influences of music, sculpture, and chromatic expression to communicate and connect with the viewer. A traveler at heart, Miller draws constantly on scenic impressions and the influence of discovery. He is represented in numerous galleries and museums throughout the United States and involves himself with educational and charitable organizations. Luminous Levitations documents a natural stage of growth for the already well-established artist, thrilling Miller's audience with new material and another remarkable glimpse into Miller's creative vision.
To schedule an interview or exclusive press preview, please contact Karen Bivins, Director of Samuel Lynne Galleries, 214.965.9027, Karen(at)SamuelLynne(dot)com
Exhibition will be on view from November 22, 2014 through January 17, 2015.
For a digital catalogue of JD Miller's oeuvre, please use this link: http://issuu.com/slg2008/docs/jd_miller_issuu_catalog_10-18-14
JD Miller's artist website: http://www.jdmillerart.com/