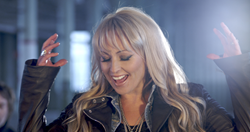 Sheffield, Yorkshire (PRWEB UK) 29 October 2014
A former lawyer who quit the profession to become a country singer is to perform at Yorkshire's largest fireworks night event.
Barnsley-born singer Rebecca Bains - dubbed the Queen of North Country Rock - is one of several acts who will perform live at the Don Valley Bowl on November 5.
Talented Rebecca, 38, who will perform her debut single Hard Road among other tracks, made her name after spending 15 years as a legal aid lawyer in Yorkshire, advising young offenders, before quitting her job to pursue a career in music industry.
Up to 20,000 people are expected to attend After Dark - which peaks with the county's largest, most spectacular firework display.
The event, now in its 18th year, kicks off at 6.30pm with an exciting bill of live music hosted by Heart FM.
Rebecca said: "I am absolutely honoured to have been asked to perform at After Dark.
"I used to go to the Don Valley fireworks every year without fail and it was a much part of my life growing up.
"I'm a Yorkshire girl born and bred, so to have the chance to bring my music to 20,000 people from my local area is a huge thrill and something I have only ever dreamed of."
*Rebecca will appear on BBC Radio Sheffield's Paulette Edwards show today (OCT 29) to talk about the build up to After Dark and her own incredible story.
**For tickets to After Dark 2014 go to http://sivtickets.com/event/afterdark2014
ENDS
NOTES TO EDITORS
Rebecca Bains has been described as the Queen of north country rock.
Born and raised in Barnsley, she started her career as a legal aid lawyer, helping young offenders across Yorkshire.
In her spare time Rebecca would perform at gigs across the UK and quit the legal profession after a moment of epiphany at 3.40am in the police cells: She was vomited on, spat at and called Satan - and quit law the next day to pursue her first love - music.
Rebecca released her debut single Hard Road through Onwards Records in April this year.
The track, which she will perform on November 5, reached number 33 in the iTunes chart.
Rebecca is now in the studio putting the finishing touches on her EP which is due for release in the new year.