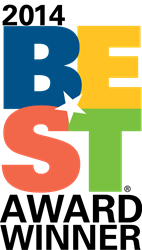 "Continuous education not only helps enhance care for our residents and patients, but it also expands opportunities for our stakeholders and helps advance their careers."– Joe Steier, President and CEO, Signature HealthCARE
Louisville, KY (PRWEB) October 29, 2014
Signature HealthCARE is proud to announce that it was recently honored with a 'BEST Award' from the Association for Talent Development (formerly ASTD). This places Signature among elite company, with only 46 organizations from six countries receiving a 2014 BEST Award.
Members of Signature's Learning Department received the award during a ceremony held this month in Washington, D.C. Prior to the ceremony, winning organizations were invited to share their best practices with other training and talent development practitioners at the 'Learn from the BEST Conference.'
The BEST Awards are considered to be the talent development industry's most rigorous and coveted recognition. The awards recognize organizations that demonstrate enterprise-wide success through employee learning and development.
"Learning is one of our cultural pillars and a cornerstone value of our organization," said Signature President and CEO Joe Steier. "Continuous education not only helps enhance care for our residents and patients, but it also expands opportunities for our stakeholders and helps advance their careers. We are honored to be recognized alongside so many other elite, global organizations as a BEST Award winner."
Other honorees this year include Verizon, Walgreens, MGM Resorts International, UPS and McAfee. Signature HealthCARE was recognized specifically for efforts to educate caregivers about caring for patients with Alzheimer's Disease and other forms of dementia.
Signature competed against dozens of organizations from a total of 14 countries. Each organization submitted quantitative and qualitative information to ATD about their learning and talent development practices and program. Applications were assessed in a blind review by members of the BEST Awards advisory board, a select group of experts in the field.
Signature and other BEST Award winners are featured in the October 2014 issue of TD magazine.
"These 46 companies excel in creating innovative, vibrant learning cultures that clearly align with strategic business goals," said Tony Bingham, ATD President and CEO. "They get it. The leadership of these organizations values the impact that talent development achieves, and knows that having a knowledgeable and skilled workforce drives success."