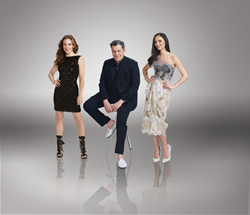 According to Farouk Shami, founder and chairman of Farouk Systems, "Our sponsorship proudly exemplifies the support of these artists as hair is a part of fashion and we are both happy and honored to support them."
Houston, TX (PRWEB) October 29, 2014
Farouk Systems USA proudly announces their continued support of Lifetime®'s Project Runway All Stars as the official hair care provider for season four premiering October 30 at 9/8c. Fourteen of the most talented Project Runway designers from past seasons will compete for runway gold with guidance from mentor Zanna Roberts Rassi. The returning designers will be impressing host Alyssa Milano and judges Isaac Mizrahi and Georgina Chapman.
During the upcoming season, the CHI® and BioSilk® Salons will be featured, along with Farouk Shami, founder and chairman of Farouk Systems. Included also will be Lisa Marie Garcia, VP of shows and education, appearing in the CHI® Haircare Salon assisting with consultations. "On behalf of Farouk Systems USA, this sponsorship demonstrates how as a team of artists, we come together to truly inspire the creation of the overall look," says Garcia.
Celebrity Hairstylist Linh Nguyen on behalf of CHI® will also help to create the hairstyles for each episode using CHI® and BioSilk® products. According to Nguyen, "I've had the recent opportunity to work with CHI® on Project Runway All Stars and it was really amazing!"
According to Farouk Shami, "Project Runway All Stars brings together many industries working together. Our sponsorship proudly exemplifies the support of these artists as hair is a part of fashion and we are both happy and honored to support them."
CHI® Haircare will send the winner to stay in a luxury spa resort as a special guest at their International conference in Cancun, Mexico, plus product and staff for entire year of runway shows.
This season's highlights will include a surprise visit to London for a challenge featuring British royalty, collaboration with Broadway's "Wicked the Musical" and the first-ever wedding ceremony live on the runway. Guest judges for this season include: Laverne Cox of "Orange is the New Black," Emmy® winner Debra Messing, "Modern Family's" Ariel Winter, Academy Award® winner Mira Sorvino, singer Nicole Scherzinger, Emmy nominated host Cat Deeley, reality stars Snooki and JWoww, celebrity photographer Nigel Barker and many others. Designers appearing this season include Betsey Johnson, Michael Bastian, Elie Tahari and Ivanka Trump, and special appearances by Project Runway judges Nina Garcia and Zac Posen.
ABOUT FAROUK SYSTEMS
Farouk Systems, Inc. is a Houston based company of hairdressers for hairdressers. They manufacture high quality professional hair care products, including industry-leading brands CHI® and BioSilk®. Farouk Systems was founded in 1986 by Farouk Shami, a hairdresser whose mission is to provide the professional beauty industry with the most advanced American technology based upon "Education, Environment and Ethics". Farouk Systems distributes its products throughout the United States and to over 120 countries worldwide. Please visit our website at http://www.farouk.com and like us on facebook.com/farouksystems. http://www.farouk.com
ABOUT THE WEINSTEIN COMPANY
TWC boasts an active television production division led by former Miramax Films Co-President of Production Meryl Poster. TWC garnered nine Emmy nominations in 2013 and has five Emmy nominations for 2014. Weinstein TV produces the reality powerhouse Project Runway, currently airing its 13th season on Lifetime; along with its spin-off series the critically-acclaimed Project Runway All Stars, hosted by Alyssa Milano, and Project Runway: Under the Gunn, hosted by Tim Gunn. Project Runway All Stars' fourth season will air Fall 2014 on Lifetime, along with a new TWC TV series, Project Runway: Threads. Weinstein TV is also excited to announce the series premiere of Cement Heads, which began airing this month on A&E®. TWC series that were produced in 2013 include Mob Wives Season 4, which VH1 has picked up for Season 5, Million Dollar Shoppers for Lifetime, Rodeo Girls for A&E and Trailer Park: Welcome to Myrtle Manor Season 2 for TLC. Announced scripted projects in development include John Fusco's historical action-adventure epic, Marco Polo, for Netflix;; Ten Commandments, a 10-part event series with each episode to be helmed by a different A-list director and focusing on one commandment and an adaptation of Daniel Stashower's best-selling Civil War-era spy thriller, The Hour of Peril. TWC also developed Amy Sherman Palladino's The Nanny Diaries for ABC and produced the Peabody Award-winning HBO series, The No. 1 Ladies' Detective Agency, directed by Anthony Minghella.
ABOUT LIFETIME
Lifetime a premier female-focused entertainment destination dedicated to offering the highest-quality original programming spanning scripted series, nonfiction series and movies. As a result of the network's aggressive programming strategy that has doubled the hours of its original programming, 2013 marked Lifetime's second straight year of growth among Total Viewers. Lifetime® Television, LMN®, Lifetime Real Women® and Lifetime® Digital are part of Lifetime Entertainment Services, LLC, a subsidiary of A+E Networks. A+E Networks is a joint venture of the Disney-ABC Television Group and Hearst Corporation.
©2014 QVC, Inc., QVC, the Q and Q Ribbon Logo, are registered service marks of ER Marks, Inc. and QVC, Inc.