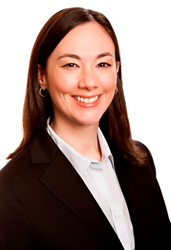 New York, NY (PRWEB) October 28, 2014
The Lymphoma Research Foundation (LRF) - the nation's largest nonprofit devoted to funding innovative research and serving those touched by lymphoma - announced today the appointment of Meghan Gutierrez as Chief Executive Officer.
"I am grateful for this unique opportunity to serve the lymphoma community," Gutierrez said. "It will be a privilege to lead this vital organization through the next phase of its growth, as we raise the resources necessary to fund critical research and continue to serve those touched by lymphoma."
Gutierrez, a well respected advocate for the lymphoma community, previously served as the LRF Chief Program, Policy and Communications Officer. In this role, she was responsible for the organization's mission programs, including research, education, patient services, public policy, communications and marketing. Gutierrez will succeed Elizabeth Thompson, who is departing to lead C-Change. Thompson will remain a strategic advisor to the organization.
"Liz has been a transformational CEO for the Lymphoma Research Foundation. Due to her vision and leadership, the Foundation is experiencing tremendous growth and renewed energy. We are deeply grateful for the outstanding contributions she has made, which have brought us closer to achieving our mission. While we wish her well in this new venture, we know the LRF mission remains close to her heart and are delighted she will continue in volunteer service as a strategic advisor," said Steven Prince, Chairman of the LRF Board of Directors. "Meghan has long been a key part of the Foundation's growth, impact and strategic vision; the unanimously enthusiastic decision by the board of directors is a testament to our confidence in Meghan's leadership. The Lymphoma Research Foundation is poised to continue on the path of growth that Liz has started us on; with our incredibly talented staff and generous supporters, I am more certain than ever in the LRF's ability to positively impact the lives of all those affected by a lymphoma diagnosis."
Gutierrez has focused her entire career in the government and philanthropic sectors, beginning as a Congressional staff member for one of the U.S. House of Representatives' foremost leaders on health care policy, then shifting to non-profit work on an array of health-related issues, ranging from mental health parity and rare disease awareness to medical technology and the treatment of chronic disease.
Prior to being named Chief Program, Policy and Communications Officer, Gutierrez served as the Foundation's Director of Public Affairs and Government Relations, where she shaped the Foundation's public policy agenda and developed a grassroots advocacy program comprised of thousands of lymphoma patients and care givers across the United States. She was a driving force behind programs such as the Adolescent and Young Adult Lymphoma Initiative and the development of the first mobile app for people with lymphoma. Gutierrez joined LRF in 2008 after serving as a health policy advisor at Columbia University, and government affairs specialist at the Partnership for a Drug Free America. Ms. Gutierrez earned her Bachelor of Arts degree from the University of Iowa.
Gutierrez will formally assume the CEO position on December 1, 2014.
About the Lymphoma Research Foundation
The Lymphoma Research Foundation (LRF) is the nation's largest non-profit organization devoted to funding innovative research and serving the lymphoma community through a comprehensive series of education programs, outreach initiatives and patient services. To date, LRF has awarded more than $55 million in lymphoma-specific research.
For additional information on LRF's research, education and services, visit lymphoma.org.