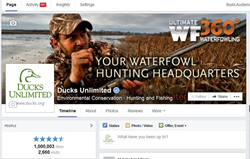 Memphis, Tenn. (PRWEB) October 28, 2014
Since 2010, Ducks Unlimited's Facebook page has grown brand awareness and loyalty while spreading the word about the organization's mission of waterfowl and wetlands conservation. DU's Facebook page reached a milestone earlier this week when it exceeded 1 million fans.
"The fact that Ducks Unlimited has exceeded 1 million Facebook fans is truly a testament to the strength of our brand and mission," said Anthony Jones, DU's web director. "Social media builds communities around common interests and shared goals, and we are fortunate to have such a large and growing community of people who support our organization's mission and culture. Their engagement with Ducks Unlimited, along with the opportunity to continue building our social media community, bodes well for the future."
DU uses Facebook and other social media to raise awareness of wetlands conservation priorities and efforts, provide helpful information on waterfowl and waterfowl hunting, and generate DU membership and support.
Here are some interesting facts about DU's Facebook fans:

80 percent are under age 35, and 60 percent are under age 25.
Over the last four years, more than 16,000 Facebook fans have joined or donated to DU directly from a Facebook offer, generating $620,000.
For the last year, DU's Facebook page has gained an average of 680 fans every day.
Since 2010, Facebook has driven more than 2 million visits to the DU website, generating 9.5 million page views.
For more information or to become a Facebook fan, visit facebook.com/DucksUnlimited.
Ducks Unlimited Inc. is the world's largest non-profit organization dedicated to conserving North America's continually disappearing waterfowl habitats. Established in 1937, Ducks Unlimited has conserved more than 13 million acres thanks to contributions from more than a million supporters across the continent. Guided by science and dedicated to program efficiency, DU works toward the vision of wetlands sufficient to fill the skies with waterfowl today, tomorrow and forever. For more information on our work, visit http://www.ducks.org. Connect with us on our Facebook page at facebook.com/DucksUnlimited, follow our tweets at twitter.com/DucksUnlimited and watch DU videos at youtube.com/DucksUnlimitedInc.