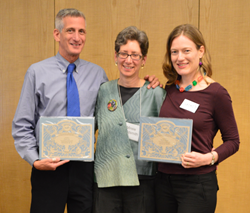 Mark L. Meridy, executive director, says "There was a lot of desire in our community to get a greening initiative going.
(PRWEB) November 07, 2014
DOROT Continues its Commitment to Going Green
DOROT celebrated a long list of accomplishments at a graduation ceremony at UJA-Federation of New York.
DOROT's green initiative, led by Greening Fellow and Senior Social Worker Naomi Singer, includes an ambitious effort to reduce its impact on the environment and inspire community members to do the same.
"Environmental stewardship issues affect people of all ages and are an important component of Tikkun Olam, the Jewish value of repairing our world," said Mark Meridy, Executive Director, DOROT. "One of the key ways DOROT accomplishes its mission of alleviating social isolation among the elderly and helping seniors live independent lives is by providing opportunities for meaningful interaction among generations. Greening issues, in addition to being extremely important in their own right, provide an excellent opportunity for seniors and volunteers of all ages to learn together and be engaged in a critical social issue. Greening education also offers a chance for the young to mentor the old in accordance with DOROT's mission of 'generations helping generations'. "
DOROT's greening accomplishments include hosting intergenerational workshops on climate change, which connected the bigger issue of global climate change with personal actions participants could take, and offering onsite and teleconference environmental education. The programming proved to be a wonderful tool both for educating and inspiring members of multiple generations and fulfilling DOROT's core missions of helping seniors lead independent lives and fostering intergenerational relationships.
DOROT has also made available locally grown produce in food provisions distributed to clients through Gale Brewer, Grow Green, Age Well, initiative. Reaction to this initiative has been overwhelmingly positive and recipients have shared that the locally grown fruit they access through DOROT reminds them of the food they ate as children.
In another greening initiative, DOROT distributed reusable shopping bags to clients, staff and volunteers in an effort to encourage recipients to limit their use of disposable plastic bags. This program has had the added benefit of demonstrating the efficacy of reusable bags to those who see bag recipients shopping and encouraging them to opt for reusable, rather than disposable, bags as well.
As a result of the success of these programs, DOROT will continue to offer classes and workshops on greening and to distribute locally grown produce as part of its food distribution programs.
DOROT has also invested in upgrades that will make its facility more efficient and reduce its carbon footprint. It's efforts in this area include replacing halogen bulbs with LED lamps, a move projected to result in an annual reduction of 17,690 kilowatt hours, adding an auto shut-off feature to lights, encouraging behavioral changes like turning off computer monitors at the end of the day, reducing paper usage by purchasing laptops to be used on home visits and posting calendars and reports on an internal electronic network, using fewer plastic utensils and paper goods, and replacing bottled water deliveries with filters on taps.
DOROT received a grant to participate in the Jewish Greening Fellowship. The Fellowship was created to develop environmental change leadership, mobilize the Jewish community to respond to climate change, and strengthen Jewish organizations by helping them to save money and engage new people. Fifty five organizations, including JCCs, summer camps, synagogues and social service organizations have participated to date. The Jewish Greening Fellowship is a project of Hazon, funded by UJA-Federation of New York.
Mark L. Meridy, executive director, says "There was a lot of desire in our community to get a greening initiative going. The Jewish Greening Fellowship gave us the inspiration, financial assistance, and support we needed. We are proud to be part of this network of Jewish organizations working for a healthy, safe, and just world