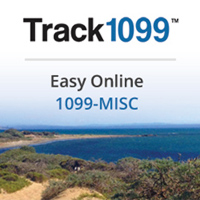 "The quality of their offerings, the ease of use, and their customer support are benchmarks against which we measure other cloud-based platforms."
Stanford, CA (PRWEB) October 30, 2014
Complementing their popular 1099 series of online IRS compliance products, Track1099 now allows clients to manage W-2s effortlessly.
Perfect for employers of all sizes, from the household "nanny tax" to large corporations, TrackW2 offers easy data entry, excellent record keeping and the ability to manage both W-2s and 1099s.
"Our tax professional clients asked us to make W-2s as easy as our 1099s. We did so," said Sharon Lindsey West, CEO of Track1099.
"We are excited to hear about the W-2 e-file product from Track1099. Our experience with them and their 1099 product has been delightful and we are confident that they will once again 'wow' us," Mark Pribble, manager of client accounting services at RBZ, LLP, said. "The quality of their offerings, the ease of use, and their customer support are benchmarks against which we measure other cloud-based platforms."
E-filing to the Social Security Administration and e-delivery to employees are accomplished with one click. E-filing with TrackW2 eliminates the need for a separate W-3, reducing the hassle of paper-based federal filing.
Track1099 answers client demands for hassle-free compliance with IRS reporting requirements and now offers online forms W-2, W-9, 1099-MISC, 1099-INT, 1099-DIV, 1099-K, 1099-C, 1098 and 3921.
______________________________________________________________________________
About Track1099:
Founded in 2010, Track1099, https://www.track1099.com, is a Silicon Valley-based company led by Stanford University graduates committed to innovative products and outstanding client service. As the pioneer in online 1099-MISC e-filing and e-delivery, Track1099 allows accounting firms, tax professionals, and businesses of all sizes to securely and accurately comply with IRS regulations.
About RBZ, LLP:
RBZ is an award-winning firm recognized both in Los Angeles and nationally. The RBZ Client Accounting Services group is a leading-edge provider of outsourced business processes using best-of-breed, cloud-based platforms to serve clients around the world. http://www.rbz.com