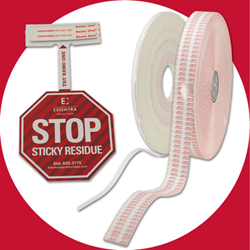 "(Remo One) is designed to have a strong bond to most hard non-delaminating surfaces while also remove cleanly, and not leave any tape behind which then must be cleaned off."
Forest Park, IL (PRWEB) October 30, 2014
Remo One has an industry leading removable adhesive system on its one side. The unique chemistry of this adhesive system allows users to cleanly remove or switch out temporary signage, displays and many other items, without leaving any residue behind. Director of Sales, Andrew Ford, states "It is designed to have a strong bond to most hard non-delaminating surfaces while also remove cleanly, and not leave any tape behind which then must be cleaned off." The other side has Essentra Speciality Tapes' well known permanent adhesive that holds strongly to your product. A flexible foam carrier in the center of the tape fills gaps, allowing irregular surfaces to be joined.
Remo One has many applications, but is best suited for use with P.O.P. and retail merchandising displays, where display components and temporary signs may need to be removed and/or replaced. The Thick Remo One Tape option can be used to create 3D effects, including attaching special or seasonal wobblers and violators to displays, or where a depth dimension is desired. Applications for Remo One also include promotional and temporary signage, single use graphics, and bonding to uneven or textured surfaces. This tape product has been used by the commercial printing and packaging industry for many years.
The Remo One product line is available in stock in pre-cut pieces on a roll or in pad form, individual diameters and on continuous rolls. Thicknesses range from 1/32" to 1/8" for continuous rolls, 1/32" to ¼" for pre-cut pieces on a roll, and ½" to 1½" for the diameters. Thick Remo One comes in a range of thicknesses from ½" to 2". Widths vary by family, but the overall range includes ½" to 3". Lengths also vary: ½" to 10" for pre-cut pieces on a roll, 1" to 3" for Thick Remo One, and 15' to 900' for the continuous rolls.
Remo One tape has an application temperature range of 65°F to 100°F, and a service temperature range of -20°F to 150°F. Colors available include white and black, and vary by product family.
Another important feature of the Remo One Tape product line is availability as a result of the strong stock position Essentra Specialty Tapes maintains. Over 200 part numbers are kept in stock to allow users to obtain them for immediate use. Product inventory is maintained at seven distribution centers located throughout the U.S. for quick and local access to products, including same day shipments.
More details and free samples of Remo One Foam Tapes are available at: http://www.essentraspecialtytapes.com/Remo-One.
Request a free copy of the complete Essentra Specialty Tapes catalog.
About Essentra Specialty Tapes, Inc.
Essentra Specialty Tapes offers a wide selection of uniquely functional tapes required by market segments such as Point of Purchase Displays, to effectively merchandise store products in retail establishments; by appliances, to make them water-tight and quiet; in buildings, to reinforce structural or design elements; in schools and museums, to provide permanent and temporary fastening solutions for changing needs; for sealing envelopes, securing package contents prior to shipping, and for many more customer requirements.
Products include Foam Tapes,Transfer Tapes, Hook and Loop Tapes, Film Tapes and Laminating Tapes, High Bond Tapes, Weather Stripping & Sealing Tapes, Bumpers and Magnetic Tape Products, among others. All products are available in stock, and the company accommodates custom orders as well. The company has almost 70 years of design and manufacturing expertise that ensures dependable product performance and unmatched service. The company's express distribution locations are positioned to provide customers fast, local and convenience service.
About Essentra PLC
Essentra is a leading international supplier of specialty plastic, fiber, foam and packaging products with four principal operating divisions: Component & Protection Solutions, Porous Technologies, Packaging & Securing Solutions and Filter Products. The company continuously produces and distributes millions of small, but essential, components to a variety of industries. Its products are often unnoticeable or even unrecognizable, but are found everywhere.
The company's international network extends to 33 countries and includes 42 principal manufacturing facilities, 64 sales and distribution operations and five research & development centers.
Shares in the new company are now traded on the main market of the London Stock Exchange under the Tradable Instrument Display Mnemonic of ESNT.L. Essentra's ISIN and SEDOL numbers, being GB00B0744359 and B074435 GB respectively, are unchanged.