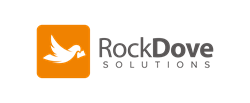 RockDove Solutions exemplifies the core In Case of Crisis mission to help people navigate to safety during an emergency, much the same way a rock dove conveys important information, particularly during a crisis - COO Christopher Britton
Herndon, VA (PRWEB) October 29, 2014
To leverage its widespread adoption and market traction, the In Case of Crisis division of Irving Burton Associates today announced its spin off to form RockDove Solutions. The new company is focused exclusively on serving the fast growing enterprise mobile marketplace for business continuity and emergency preparedness solutions. In Case of Crisis, the award-winning emergency preparedness solution, will serve as RockDove Solutions' flagship solution with future mobile offerings planned to support the expanding needs of companies to better prepare for the unexpected and foster a safer workplace.
Headquartered in Herndon, Va., and carrying forward its existing leadership, RockDove Solutions' management will consist of CEO and President Anna Ryan and Chief Operating Officer Christopher Britton, formerly General Manager of the In Case of Crisis division, and Ray Baldwin as Chief Technical Officer.
"As In Case of Crisis has gained significant market momentum addressing the growing demand for mobile solutions to support emergency preparedness in education, government and for-profit corporations, Irving Burton Associates' investors made the decision to spin-off In Case of Crisis to allow for dedicated focus on their respective core offerings," said Britton. "RockDove Solutions exemplifies the core In Case of Crisis mission to help people navigate to safety during an emergency, much the same way a rock dove has served humankind for thousands of years conveying important information, particularly during a crisis."
In Case of Crisis' unprecedented growth, broad market adoption and recent global distribution partnership with Dude Solutions were significant milestones in driving the formation of RockDove Solutions, which is expanding its mobile offerings beyond emergency preparedness into enterprise business continuity and compliance.
RockDove Solutions is a privately held company. The company expects to grow its institutional client base by more than 500% year over year.
About RockDove Solutions and In Case of Crisis
RockDove Solutions offers enterprise-class business continuity and emergency management mobile solutions. RockDove Solutions' flagship product In Case of Crisis is an award-winning mobile solution that helps institutions and their safety professionals' better care for the well-being of their people by offering easy and secure access to institutional-specific emergency procedures and safety guidelines. The fully secure and customizable mobile solution brings organizations' unique content to life on the Apple iOS, Android, BlackBerry Passport and Kindle Fire devices. RockDove Solutions is a privately-held company headquartered in Herndon, Va. For more information visit http://www.rockdovesolutions.com
# # #