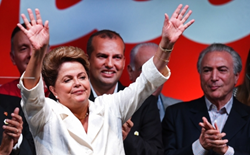 We will continue building a better Brazil, one that is more inclusive, more modern and more productive.
(PRWEB) October 29, 2014
After a tight run off that at times was too close to call, Dilma Rousseff of the Workers Party (PT) was re-elected as Brazil's 36th president. For those committed to Brazil in the long-term as one of the major geopolitical and geo-economic powers of the 21st century, the outlook is a positive one.
For in-depth analysis on post-election Brazil access the Liquid Investments White Paper now.
Diogo Mendes, Country Analyst for Liquid Investments, believes that a second term should be viewed as a "tremendous opportunity for Brazil."
Brazilian assets will drop in price. In dollar terms, the stock market was trading on a price-earnings ratio of 10x with a 4% yield and 12% earnings growth forecast for 2015. The need for currency realignment will compound this attractiveness.
Comments by Rousseff in the immediate aftermath of the result show she is aware of the need to build consensus. In her victory speech, Rousseff stressed that "instead of increasing differences and creating gaps, I strongly hope we create the conditions to unite."
To 'fix' the perceived problems in Brazil is actually very easy. Everyone knows what needs to be fixed. It won't occur overnight, but issues such as raising investment, productivity, monetary and fiscal policy, cutting taxes and the public sector can all be overcome during the course of this administration.
For further information on the Liquid's green investment opportunities in Brazil, visit their website. If you would like to get in contact with one of their Investment Consultants, please request a callback.
Note to Editors:
Liquid Investments is a provider of global investment solutions allowing institutional and private investors the opportunity to accumulate wealth through safe and secure alternative investments in emerging markets.
Founded in 2006, the organisation is headquartered in Knightsbridge, London and with an office in Fortaleza, Brazil.
For further information:
Jayshree Badhan, Chief Marketing Officer – Jayshree.Badhan(at)liquid-investments(dot)com