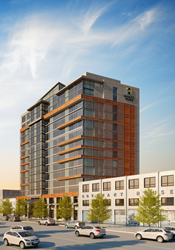 Guests that come here want something outside the cookie cutter of a major brand, but also want all the standards a world renowned brand brings," said Stacy Smith, hotel General Manager. "Here we can offer both."
WASHINGTON, D.C. (PRWEB) October 30, 2014
Yesterday, just blocks north of the U.S. Capitol Building, the country's seat of power, another gathering of leaders took place. Representatives from the hospitality industry, clients and business leaders welcomed the Hyatt Place Washington D.C./U.S. Capitol, the first of its brand in Washington, D.C., to the nation's capital.
Hyatt Place Washington D.C./U.S. Capitol, managed by Crescent Hotels & Resorts, hosted over 200 guests and officials who attended the hotel's grand opening celebration. As guests entered the lobby of this newly constructed hotel, they were welcomed by jazz from local up and coming band, the Mykle Lyons Jazz Trio. In just four months since the Hyatt Place opened its doors on June 26, 2014 the hotel has become a popular location for both business and leisure travelers coming to Washington, D.C. Stacy Smith, the hotel's General Manager, credits the hotel's quick success to its location and the boutique style of the hotel.
"The hotel is located just north of the Capitol in the up and coming NoMa [North of Massachusetts Avenue] area," said Smith. "It's an exciting time in the growth of our city, where an area that is so close to everything is developing an eclectic feel all its own. Guests that come here want something outside the cookie cutter of a major brand, but also want all the standards a world renowned brand brings. Here we can offer both."
The lobby, consisting of modern art and various sitting areas, was transformed into a host to various food stations with numerous local offerings from award winning area chefs. "To showcase the diversity of the NoMa area we intentionally designed our menu to be equally as varied," said Smith. "We brought in chefs from our management company's sister locations who provided a mix of tastes and textures that were very well received by our guests." Chef Sanabria from Hyatt Fairfax at Fair Lakes, Executive Chef John-Michael Hamlet from Vinifera at the Westin Reston Heights, Boyd "Bo" Palker from the Westin Arlington Gateway and Chef Bobbie Miller from Sheraton Tyson Hotel collaborated for the night's event.
As guests descended the lobby's grand staircase to the function rooms, they were greeted with hand passed hors d'oeuvres. The hotels offers two state-of-the-art meeting rooms that can accommodate up to 120 people. "Sometimes it's easy for smaller meetings to be lost in a larger hotel, said Smith. "With our intimate setting even the smallest meeting gets our full attention and usually without other events running concurrently. Our clients have really responded positively to our decision to cater to smaller events."
On the second floor the outdoor pool, adjacent to the fitness center, hosted a poolside bar were guests of the hotel's grand opening enjoyed signature classic cocktails. "We really wanted to showcase this unique space," said Smith. "In many ways this is a major focal point of the hotel. It's a little hidden oasis where guests can relax in this outdoor environment after a long day or work or touring. In many ways this area represents the boutique feel we have quickly become known for since our opening."
Hyatt Place Washington D.C./U.S. Capitol is a short walking distance from the NoMa-Gallaudet U Metrorail station (Red Line), and is located just north of the U.S. Capitol Building, Smithsonian Institution, Union Station, the White House, and Washington D.C. Convention Center. Additionally, the hotel is less than six miles from Georgetown and the National Cathedral. Smith added, "We are no not only proud of our area, but also of the positive economic impact the hotel is having on the community, offering newly created jobs."
"With the destination appeal of the nation's capital paired with a strong brand, Hyatt Place Washington D.C./U.S. Capitol will quickly become a premier location to accommodate business and leisure travelers visiting Washington, D.C.," said Michael George, Chief Executive Officer and President of Crescent Hotels & Resorts.
HYATT PLACE WASHINGTON D.C./U.S. CAPITOL
This, the first Hyatt Place location in downtown Washington, D.C., boutique 200 room suite hotel is located just north of the U.S. Capitol Building, two blocks from the NoMa-Gallaudet U Metrorail station (Red Line), and just minutes from the Washington D.C. Convention Center. Each suite features a swiveling 42-inch HDTV, the plush Hyatt Grand Bed® and Cozy Corner sectional sofa. Wi-Fi is complimentary throughout the hotels, as is the a.m. Kitchen Skillet TM breakfast, featuring freshly prepared breakfast sandwiches, a variety of fresh fruits, hot and cold cereal, yogurt, breads, premium coffee and an assortment of juices. The hotel offers 1,600 square feet of flexible, high-tech meeting/function space. Guests and locals can enjoy the 24/7 Gallery Menu serving made-to-order entrees and appetizers around the clock and the Coffee to Cocktails Bar featuring specialty coffees and premium beers, as well as wines and cocktails. The hotel is owned by The JPB Companies. For more information, visit http://www.HyattPlaceWashingtonDC.com, call 202-289-5599, like on Facebook, follow on Instagram and connect on Google+.
About The JBG Companies
Headquartered in Chevy Chase, Maryland, The JBG Companies is a private real estate investment firm that develops, owns and manages office, residential, hotel and retail properties. The company has more than $10 billion in assets under management and development in the Washington Metropolitan Area. Since 1960, JBG has been active in the communities where it invests, striving to make a positive impact. More information can be found by visiting the company's website, http://www.JBG.com, or by calling 1-240-333-3600.
About Crescent Hotels & Resorts
Crescent Hotels & Resorts is a nationally recognized, top-10 independent third-party operator of hotels and resorts. Crescent currently operates over 80 hotels and resorts, with close to 19,000 rooms in 29 states and Canada. Crescent is one of a small group of independent management companies approved to operate hotels under the Marriott, Hilton, Starwood, Hyatt and InterContinental flags. Crescent also operates a collection of legendary independent hotels and resorts. For more information, please visit http://www.chrco.com.
About Hyatt Hotels Corporation
Hyatt Hotels Corporation, headquartered in Chicago, is a leading global hospitality company with a proud heritage of making guests feel more than welcome. Thousands of members of the Hyatt family strive to make a difference in the lives of the guests they encounter every day by providing authentic hospitality. The Company's subsidiaries manage, franchise, own and develop hotels and resorts under the Hyatt®, Park Hyatt®, Andaz®, Grand Hyatt®, Hyatt Regency®, Hyatt Place®, Hyatt House®, Hyatt Zilara™ and Hyatt Ziva™ brand names and have locations on six continents. Hyatt Residential Group, Inc., a Hyatt Hotels Corporation subsidiary, develops, operates, markets or licenses Hyatt Residences® and Hyatt Residence Club®. As of March 31, 2014, the Company's worldwide portfolio consisted of 554 properties in 47 countries. For more information, please visit http://www.hyatt.com.
This hotel is a member of stayinwashingtondc.com.