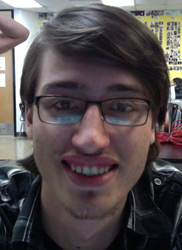 Oklahoma City, OK (PRWEB) October 29, 2014
The attorneys of Burch, George & Germany are pleased to announce the winners of our Teen Safety Scholarship Contest designed to broaden awareness of the dangers of texting and driving.
Students were asked to create and submit short, creative videos on the dangers of texting and driving to compete for the scholarships. The videos were then posted on YouTube and the Burch, George & Germany website. First place was won by Sean Nirmaier, a senior at Inola High School in Inola, Oklahoma who received a $1,000 scholarship for his video submission.
"Growing up, I have had more personal experiences with people I knew getting into accidents and suffering terrible injuries -- some of them fatal," Nirmaier said. "The main message of the video is 'It doesn't just affect you,' or 'It's not only your life,' showing that a friend who has always looked out for you, and you really care about him, suffers from your mistake."
Two students tied for second place: Alisia Ortiz, a senior at Tushka High School (Video), in Atoka Oklahoma and Skylar Yoder, a senior at Booker T. Washington High School (Video), in Tulsa Oklahoma. Both students received $500 scholarships.
"I am deeply involved with GentXt, a teen-led organization created to raise awareness about the dangers of distracted driving," Yoder said. "I advocate for a ban on texting while driving in all of Oklahoma, because distracted drivers affect my life every day. If people text and drive, they could potentially hurt me or someone I care about, and that is unacceptable."
Jessica Haas, a senior at Duncan High School, Duncan, Oklahoma received an honorable mention for her video entry, which garnered the most social shares among the teen contestants. She received an iPad Mini.
Receiving an honorable mention in the parent category was Shelly Yoder, mother of parent of Skylar Yoder. She received a Kill switch app that disables a cell phone to prevent texting and driving.
"I was motivated by my daughter whose passion is educating others on the dangers of texting and driving and advocating for Oklahoma to pass a law banning the same in this state," Shelly Yoder said. "She is involved with a group in Tulsa called Generation tXt. I also believe this is a very real problem in society and it affects all of us on the roads".
Distracted driving has become a deadly problem on our roads today. As active members of this community, the staff of Burch, George & Germany Law Firm, want to help stop distracted driving accidents and prevent the lifelong impact that these accidents can create.
"The Teen Safety Scholarship Contest was something we could do in Oklahoma as a community to convey to young drivers that texting and driving leads to serious and avoidable accidents," said Derek Burch, a founding partner of Burch, George & Germany.
"We were thrilled to see the creativity in the videos submitted to convey the serious dangers of distracted driving, which is why we started this contest and scholarship program", says Kelly George, a founding partner of Burch, George & Germany.
The panel of judges was composed of Christy Blystone, Program Director of Generation tXt , a teen-led program in Tulsa that educates the public to the dangers of texting while driving. ""I was impressed with the fact that each submission used a unique angle to get its message across to not text and drive," Blystone said. "Each teen's 'take' was intelligent and creative. The Ad Council should take a look and make a professional version of one or all of them!"
Another judge, Lauren Garey, the Scholarship Director for Communities of Oklahoma, which provides scholarships to youth throughout Oklahoma, said, " I was so honored to be a part of the selection process and am very grateful to Burch, George & Germany for doing their part to bring awareness to the consequences of texting and driving. This scholarship provided a very innovative way to force people to think twice about texting while they are behind the wheel. I was extremely impressed with the passion and creativity that the participants displayed in their videos. I couldn't have been more pleased with the process!"
There are many ways to prevent distracted driving accidents caused by texting and driving or talking on a cell phone, such as turning off your phone when driving and only using it for emergencies when you're on the road. Keeping your phone out of sight by putting it in the glove box, a purse or backpack while driving can ensure that you are not tempted to text or go online while you're driving. Additionally you can use an app such as the AT&T Drivemode app, which is free and lets you set up auto-replies that are sent to incoming texts, e-mails and calls so you can keep your focus on the road.
About Burch, George & Germany
Burch, George & Germany represents plaintiffs from all 77 of Oklahoma's counties in personal injury and product liability lawsuits involving all types of accidents and injuries. Their focus is on litigation. The firm was built on hard work, dedication, personal service, respect and doing everything possible to help clients prevail in their legal pursuits. Through honest and ethical practices, active participation in collegial organizations and as guest speakers in legal seminars to other lawyers and law students, the attorneys have earned the respect of our peers and the community.