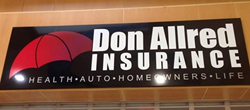 The timing here is extremely important because of the upcoming open enrollment period for the national Affordable Care Act.
Burlington, NC (PRWEB) October 30, 2014
Don Allred Insurance, a leading provider of home, auto, life, commercial, and health insurance plans for North Carolina residents, is excited to announce the Grand Opening of its satellite office in Burlington's Holly Hill Mall. The new branch has been up and running since October 15, with agents already helping customers through all facets of the insurance selection process from quote comparison to policy purchase.
Allred Insurance spokesman Scott Allred couldn't be happier with the timing of this Grand Opening.
"Our team worked hard to make sure the scheduled opening went off without a hitch," he says. "The timing here is extremely important because of the upcoming open enrollment period for 2015 coverage under the national Affordable Care Act. Open enrollment begins on November 15, giving us a whole month to settle in and prepare for the influx of application requests."
Mr. Allred also revealed a partial lineup of insurance providers his firm has partnered with for the coming year.
"We will be offering Allred clients coverage options from Blue Cross Blue Shield of NC, United Health Care, and Coventry for the 2015 plan year," he says. "And this list will likely grow as we finalize the details on additional partnerships."
Regular business hours at the Allred Insurance Holly Hill location, where walk-ins are encouraged and welcome, are 9 a.m. to 12 p.m. from Monday to Friday and 12 p.m. to 3 p.m. on Sundays. It is also possible to meet with agents by appointment outside of posted business hours for one-on-one consultations.
To handle the anticipated surge in walk-in traffic during the ACA open enrollment period, which runs from November 15 to February 15, Allred's Holly Hill office will extend its business hours to 9 p.m. on weekdays and will provide services on Saturdays for those three months.
For more information about Allred Insurance or to schedule a consultation, please visit http://www.allredinsurance.com.