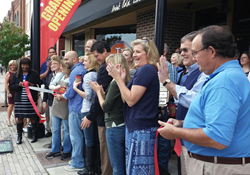 Our Seven Steps program is perfect for small business owners and faith-based organizations because it offers all the support of a coffee franchise and more but without franchise fees, royalties or business restrictions - Greg Ubert
Columbus, Ohio (PRWEB) October 29, 2014
Another new coffee business has joined the community of independent coffee houses supported by Ohio coffee roaster Crimson Cup Coffee & Tea. J's Place on Main serves Crimson Cup beverages, breakfast and lunch from a historic building at 101 S. Main Street in downtown Nicholasville, Kentucky.
When J's Place on Main celebrated its grand opening on Tuesday, Oct. 28, a long line of customers took advantage of an offer for any regular-sized drink for just $1. J's Place serves a full menu of hot and cold espresso, cappuccino, latte and mocha drinks, drip coffee, smoothies, and hot and iced teas.
Owner Gwen Riley, a small business owner who also operates GreenBox Heating & Air, started J's Place on Main to reach out to those who needed a hand up after hard times. "We are a missional coffeehouse, which means we exist to make money…and then give the majority of it away!" she said. "Let us serve you a cup of your favorite coffee. And know that you are helping to serve the world around you!"
Greg Ubert, Crimson Cup founder and president, said, "We're excited to welcome another faith-based business to the Crimson Cup community of independent coffee houses. Our experience shows that coffee shops offer a great place for people to gather together and share their faith and love."
Riley and J's Place Manager Todd Johns learned operate a coffee shop through Crimson Cup's Seven Steps to Success coffee shop franchise alternative program, based on Ubert's book, Seven Steps to Success in the Specialty Coffee Industry. This commonsense guide covers everything needed to start and run an independent coffee shop.
"Our Seven Steps program is perfect for small business owners and faith-based organizations because it offers all the support of a coffee franchise and more but without franchise fees, royalties or business restrictions," Ubert said. "Our consulting services, including business plan development, site evaluation, on-site training, marketing support, menu ideas and much more, are all designed to help reduce costs, increase profits and eliminate potential headaches.
"Over the past year alone, we have helped more than 15 new business owners and non-profit organizations realize their dream of running an independent coffee business," Ubert said.
For more information, visit the J's Place on Main website or Facebook page. The company's Twitter profile is @jsplaceonmain.
About Crimson Cup Coffee & Tea
Since 1991, Crimson Cup Coffee & Tea has hand-roasted specialty coffee in Columbus, Ohio and taught independent business owners how to be successful through its coffee shop franchise alternative program. Sustainably sourced Crimson Cup coffee is available through a network of more than 350 independent coffee houses, grocers, college and universities, restaurants and food service operations across 28 states, as well as the company's own Crimson Cup Coffee House in the Columbus suburb of Clintonville. For more information, visit crimsoncup.com.