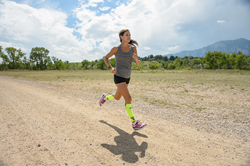 I wake up the next day with my legs feeling recovered and ready to go.
New York, New York (PRWEB) October 29, 2014
Zensah®, the Miami-based compression apparel brand, returns to the 2014 TCS NYC Marathon. This year, the company is back in New York City with Two-time Olympian and Elite Marathoner Kara Goucher on their team. After more than 15 months without competing, Kara Goucher will make her marathon comeback in New York City. Throughout her recovery and training leading up to this moment, Goucher has found the Zensah Compression Leg Sleeves, Tech+ Compression Socks, and High Compression Tights as necessary tools.
Kara Goucher, who joined Zensah® in a multi-year partnership in July, will be running the TCS New York City Marathon for the second time. Goucher's first ever marathon as a pro was the NYC Marathon and she placed 3rd! There is a lot of energy and excitement in anticipation of the marathon and Kara Goucher's comeback. Leading up to the race, Goucher utilizes the Zensah® Compression Socks, Compression Leg Sleeves, and High Compression Tights for her running and recovery.
"I wear the Zensah Compression Tights after every long run," says Kara Goucher. "I wake up the next day with my legs feeling recovered and ready to go."
"We are thrilled to be back in NYC cheering on all the runners participating! As an elite athlete, Kara has the option to wear any compression brand. She chose Zensah and has made it a staple in her recovery. It is especially exciting to see Kara making her comeback, stronger than ever," says Suzanne Kerpel, Marketing Director at Zensah®.
Zensah's® mission is to create innovative products that wow and inspire all athletes to achieve their goals without limits. The Zensah® Compression Leg Sleeves are currently the #1 selling compression leg sleeves in running specialty and have been for six consecutive years according to Leisure Trends Group Data.
The New York City Marathon is one of five marathon majors and a favorite for runners around the world. While not an easy course, runners love to take on the challenge. Zensah® uses the best technology to develop compression gear for all athletes to help them achieve their goals, and they offer the bestselling compression leg sleeves in the US. Their compression socks and sleeves have targeted muscle support to help with shin splints and calf pains and to improve recovery. Zensah® will be exhibiting at booth #225 at the TCS NYC Marathon Health and Fitness Expo. The expo is held at the Jacob K. Javits Convention Center from Thursday, October 30th – Saturday, November 1st. The TCS New York City Marathon will take place on Sunday, November 2nd.
About Zensah®:
Zensah®, the Miami-based compression brand, leads the growth for compression apparel in the running industry. The company is recognized for utilizing seamless technology in all of its athletic apparel. Zensah® has the number one selling compression leg sleeves in the US for Running Specialty and its products are praised by athletes that appreciate the comfort and technology put into each piece. Learn more about Zensah® here: http://www.zensah.com, http://www.twitter.com/zensah, and http://www.facebook.com/zensahsports.
About Kara Goucher:
Kara Goucher is a professional American runner. She graduated from the University of Colorado with three Division I NCAA championships in cross-country. In addition to being one of the most inspiring female distant runners of all time, she is an American record holder, a two-time Olympian, and a World Championships bronze medalist.
Suzanne Kerpel
marketing(at)zensah(dot)com
ZENSAH® COMPRESSION APPAREL
(305) 935-4619