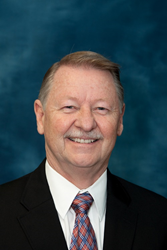 David's extensive leadership experience, passion for rural healthcare and strong focus on patient centered care is exactly what we were looking for in our new CEO.
LENEXA, Kan. (PRWEB) October 29, 2014
After conducting a nationwide executive search led by healthcare leadership solutions firm B. E. Smith, Montgomery County Memorial Hospital (MCMH) in Red Oak, Iowa, has hired David Abercrombie as chief executive officer. A veteran healthcare executive with more than 30 years of leadership experience, including more than 10 years as a rural and critical access hospital executive, Abercrombie will assume his new duties on December 8.
"David's extensive leadership experience, passion for rural healthcare and strong focus on patient centered care is exactly what we were looking for in our new CEO," said Jim Robinson, chair of the MCMH Board of Trustees. "The Board is pleased David will be joining the hospital. His leadership will continue the hospital's longstanding dedication to providing the highest quality of care to the community."
Formerly, Abercrombie served as chief executive officer at Madison County Memorial Hospital in Madison, Fla., providing leadership and strategic direction for the 25-bed rural hospital. He previously held the role of chief executive officer at Fairview Regional Medical Center in Fairview, Okla. and Artesia General Hospital in Artesia, N.M. He also served as administrator at Memorial Hermann-Baptist Beaumont Orange Hospital in Orange, Texas.
"Montgomery County Memorial Hospital was seeking a senior healthcare executive with specific experience growing service lines and market share, recruiting physicians, as well as strategic leadership in IT and patient care initiatives," said Mick Ruel, vice president of executive search for B. E. Smith, the healthcare executive search firm who conducted the nationwide CEO search for MCMH. "David's experience and leadership style were the perfect fit."
Abercrombie earned a Master of Jurisprudence in Health Law from Loyola University, as well as a Master of Business Administration from Dallas Baptist University and a Bachelor of Science in Interdisciplinary Studies with concentration in Administration from the University of Alabama. He is a Fellow in the American College of Healthcare Executives (ACHE).
About Montgomery County Memorial Hospital:
Montgomery County Memorial Hospital (MCMH) is the preferred healthcare resource in southwest Iowa, delivering quality care and performance excellence. This modern healthcare facility was built in 1989 with more than $860,000 donated by area residents. The Physicians Center addition was opened in 1993 and a new outpatient clinic addition in 2010. To learn more visit http://www.mcmh.org.
About B. E. Smith:
Founded in 1978, B. E. Smith is a full-service healthcare executive search firm and the top-ranked provider of senior-level leadership services including Interim Leadership, Executive Search and Advisory Services. Veteran healthcare recruiters and regional healthcare experts partner with each client to create customized solutions. B. E. Smith's proven methodology has resulted in the recent placement of more than 900 leaders into healthcare organizations worldwide. The firm utilizes a comprehensive sourcing strategy incorporating the latest marketing techniques, association partnerships, social networking and one of the largest databases of skilled senior-level healthcare executives in the industry to deliver immediate results in today's complex healthcare environment. For more information, visit BESmith.com or call 855-254-8261.