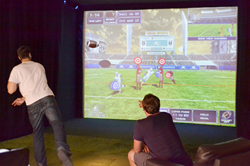 Visual Sports is the only multi-sport system on the market combining a full range of customizable sporting experiences, from Golf to Zombie Dodgeball
Orlando, Florida (PRWEB) October 29, 2014
From November 18 to November 21, 2014, Visual Sports will showcase their multi-sport simulation technology at The International Association of Amusement Parks and Attractions (IAAPA) exposition in Orlando, Florida. Visual Sports is the only multi-sport system on the market combining a full range of customizable sporting experiences, from Golf to Zombie Dodgeball, with precision game play.
New to the IAAPA exposition, Visual Sports will debut the Quarter Back Challenge football game where players participate in practice drills attempting a hail-Mary pass or a winning field goal. Players are given real-time feedback on pass location, distance and ball speed after each throw while instant replays and reverse angles display the flight path of each pass. This skill testing football game has proven to be a popular success adopted by NFL Play 60, a National Football League program intended to empower youth to be active and healthy. The Nissan Heisman House Tour chose to entertain football fans for the second year in a row with the interactive game experience, bringing the Quarter Back Challenge on tour to college campuses across the United States.
In addition to the Quarter Back Challenge, Visual Sports will be showcasing their latest editions to the multi-sport system at IAAPA including Baseball Home Derby and Bocce; a fun and engaging activity that appeals to players regardless of age or sporting ability.
The Visual Sports thirteen-in-one system is fully customizable with integrated graphics that bring the world's biggest brands into game time play. Slogans, logos or other corporate messaging can be placed right in the game with everything from a sponsor's logo on player uniforms, to in-stadium ads on score boards or rink boards.
Visual Sports interactive installations can be seen at major stadiums and select locations of major entertainment emporiums across the globe including:

Dave and Busters
Wonderworks
Ripleys
Skyzone
To learn more about the world's only multi-sport simulator system or upcoming events visit visualsportssys.com 
About Visual Sports:
Visual Sports Systems Inc offer a high-end entertainment and training experience by combining industry-leading technology simulation with the only multi-sport capability on the market. Launched in 2000, Visual Sports provides a full range of golf and interactive multi-sport simulators that provide precision gameplay and excitement for any space or venue. An in-house team of engineers and designers have combined patented cutting-edge tracking technology with amazing gameplay. The result is games that are played with real equipment, featuring incredible precision and lifelike gameplay. The twelve in one system allows for multi-sport capability including games such as golf, baseball, hockey, football, soccer and more.
For more information please visit http://www.visualsports.com.
-30-