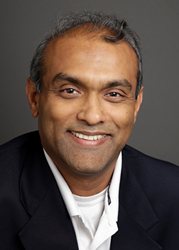 "I look forward to building upon the vision established by Venkatesh and ensuring the highest quality and a 'customer first' focus to Element Solutions." - Srini Kandikonda
Austin, TX (PRWEB) October 29, 2014
Element Solutions, LLC, a digital solutions firm, announces the appointment of Srinivas Kandikonda as President and Chief Executive Officer of Element Solutions. Kandikonda previously served as President and Chief Operating Officer of the company. Kandikonda succeeds Venkatesh Korla, who is the company's founder and has been CEO since the company's inception in 2003. Korla will be shifting to the role of Principal Strategist and Chairman of the Board.
Kandikonda assumed responsibility on September 19th and reports directly to the board. Korla's daily presence and focus on client strategies will ensure a smooth transition.
Throughout his three years at Element Solutions, Kandikonda has focused on enhancing delivery and finance operations in order to drive the company forward on its journey towards greater ability and success. He has over 25 years of experience in product development, sales, and management with companies such as Tata Steel, Complete Business Solutions, Claremont Technology Group, Vignette, and Virtusa.
Kandikonda commented, "I look forward to building upon the vision established by Venkatesh and ensuring the highest quality and a 'customer first' focus to Element Solutions. We have a fantastic team of dedicated professionals who are extremely motivated to do great things and provide exceptional value to our customers."