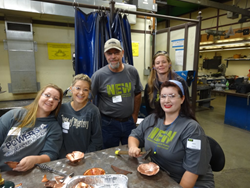 By hearing personal experiences of women engaged with STEM jobs, I was able to apply it to my own life.
Rocklin, CA (PRWEB) October 29, 2014
Sierra College hosted the second Nontraditional Employment for Women (NEW) event on October 19 to inspire high school girls to consider Science, Technology, Engineering and Math (STEM) careers where women comprise 25% or less of the workforce.
Keynote speaker Gina Lujan, Founder of the Sacramento Hacker Lab, organized a panel of three entrepreneurial women who described their unique journeys to technical careers. Then girls made hands-on projects in the labs. During lunch, business representatives rotated to small groups of girls to explain opportunities in their industries.
Roseville High School graduate, Zayna Thomas, was attracted to Sierra College as a result of last year's NEW event. She served as a welding ambassador this year, helping girls weld and complete copper candle holders. "I welded for the first time at NEW and was surprised how much I liked it," said Thomas. "The welding instructor, Bill Wenzel, encouraged me to come to Sierra College."
The welding class she enrolled in reinforced the interest that was sparked at NEW. "Welding was so fun and I knew it was where I want to be," said Thomas. "Since I made up my mind that I wanted a welding career, opportunities for training and apprenticeships have opened up."
When asked if she was intimidated to be in a nontraditional education program, Thomas said that the learning environment is supportive. "The other students are open, friendly and encouraging," said Thomas. "The instructors are approachable and helpful."
Thomas advised the girls to look beyond typical careers and find out about a wide range of specific jobs. "I never thought about how many people with different skills are needed to build a bridge, for instance," said Thomas. "I don't want to sit back; I want a job where I can say, 'I got to do that.'"
Christian Kinsey, Tech Essentials and Metal Manufacturing teacher, Colfax High School, said that the NEW event impacted students. "On the bus ride home, the girls wanted to show me what they had made," said Kinsey. "They were proud of their projects. The girls also said they would have given up a Saturday to be a part of this event; that's how valuable it was for them."
Nearly 100 young women from Colfax, Del Oro, Rocklin, Placer, Foresthill, Granite Bay and Antelope high schools attended. The groups were kept small so girls could have one-on-one time with faculty and student ambassadors as they completed their hands-on projects, explained Sierra College Superintendent/President Willy Duncan. "The girls experienced first-hand our programs in Welding, Mechatronics, Engineering, Applied Art & Design and Photography, Drafting and Engineering Support, and Construction and Energy Technology," said Duncan. "These are technical programs that have high rates of employment and a variety of opportunities for students."
With the assistance of the College's industry and business partners, the students also had their first networking experience talking with engineers, electricians, technicians and manufacturers. "It really helps to break the ice for these students," said Duncan. "They will be able to face these situations in the future with more confidence."
The girls said that participating expanded their thinking: "I gained insights on jobs I never would have thought about before," "I realized that I am more interested in Engineering," "I want to take a hands-on class now that we had the experience," "I have a more open mind about career choices, especially with jobs dominated by males," and "By hearing personal experiences of women engaged with STEM jobs, I was able to apply it to my own life and think of what it would be like if I was in the field."
The NEW event was hosted by the Sierra College Career Technical Education program, the Sierra STEM Collaborative and the Center for Applied Competitive Technologies, in partnership with the Placer Union High School District. Major sponsors included the North Far North Regional Consortium, Golden Sierra Job Training Agency, and Intel®. Other event sponsors included: Valley IT Support, Parallax Inc., Union Pacific, AAUW Roseville-South Placer, RuffStuff Specialties, SME Sacramento Valley Chapter, SMUD, Hacker Lab and California Community Colleges Special Populations Collaborative.
To learn more about encouraging nontraditional employment, read Factors that Influence Females' Pursuit of STEM Fields by Elizabeth Dayton, Ph.D, for Sierra College STEM Collaborative.
About Sierra College STEM Collaborative
The Sierra STEM Collaborative is funded by California Community College Chancellor's Office, to create a pipeline of students interested in technical careers. Students can pursue Welding, Mechatronics, Engineering, Energy Technology and Drafting & Engineering Support at Sierra College. For information, go to http://www.sierraschoolworks.com or contact Carol Pepper-Kittredge, Sierra College at (916) 660-7801 or training(at)sierracollege.edu.