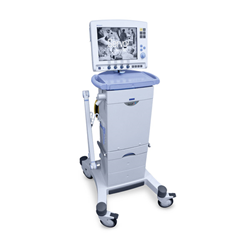 DRE's inventory is always growing to incorporate the latest technologies and to accommodate seasonal needs.
Louisville, KY (PRWEB) October 30, 2014
DRE Medical — a leading medical equipment distributor — is expanding its inventory to help medical facilities develop their contingency plans for possible equipment shortages during this year's flu season.
The upswing of patients at peak flu season often strains the ventilator capacity of ICUs around the country. Last year, nearly a dozen hospitals in Chicago had to turn away sick patients as they dealt with a surge in flu patients. A hospital in Pennsylvania set up a triage tent for flu patients. A hospital in California also set up a tent earlier this year.
Purchasing additional ventilators now will head off these headaches before they arise. By working with DRE, medical facilities can avoid the last-minute scramble of finding ventilators and other medical devices to treat the influx of influenza patients.
DRE has a large supply of Refurbished Maquet Servo-i Respiratory Ventilators, one of the top-choice units for ICUs, NICUs and other hospital units.
The Servo-i meets the performance and customization standards for high-pressure, dynamic environments. It supports both invasive and non-invasive ventilation, and can be configured to suit the needs of all patient categories and clinical situations.
The cost benefits of the Servo-i are clear, as this multi-purpose unit eliminates the need to invest in multiple types of ventilators for different patient categories. The units can also be upgraded as your needs change.
DRE stocks many popular ventilator models from many industry-leading brands, including Puritan Bennett, Carefusion and Maquet.
For 30 years, DRE has been serving hospitals, ICUs and other medical facilities. The company's experienced sales consultants have the knowledge to guide customers through the buying process, getting them the right equipment at an affordable price.
DRE's inventory is always growing to incorporate the latest technologies and to accommodate seasonal needs. The company offers a complete range of capital equipment, supplies and biomedical services to help medical facilities be fully-prepared for this year's flu season.
For more information on DRE's full selection of equipment and services, visit dremed.com or call 1-866-929-3152 to speak with a sales consultant today.
About DRE
Since 1984, DRE has worked to be a single supplier for all major operating room equipment and surgical equipment. Inc. magazine named DRE, Inc., a leading surgical and medical equipment supplier, to its annual Inc. 5000 list of the nation's fastest growing companies for three consecutive years.